State of Mississippi
Timeline: 1861: Historical Failing
OTL equivalent: Mississippi

| | |
| --- | --- |
| | |
| Flag | Coat of Arms |

Capital
(and largest city)
Jackson
Language
English
Governor
Phil Bryant (R)
Area
125,443 km²
Population
2,967,297 
Established
1817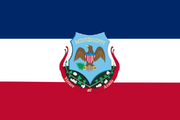 Mississippi is a state of the U.S., located in the South.
From 1861 to 1865, it was part of the CSA.
Ad blocker interference detected!
Wikia is a free-to-use site that makes money from advertising. We have a modified experience for viewers using ad blockers

Wikia is not accessible if you've made further modifications. Remove the custom ad blocker rule(s) and the page will load as expected.