The following New Union article is obsolete.

This article is no longer part of the New Union timeline. This page has not been deleted from this website for sentimental and reference purposes. You are welcome to comment on the talk page.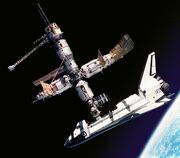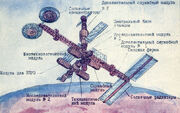 The Mir program (Russian: Мир, "Peace" or "World") is the current space station program of the Soviet Union. The program began in 1986 as a replacement to the former Salyut program. Only two space stations have been constructed under the Mir program.