Overview
All males over the age of 18 must serve at least two years in the Kentucky Armed Forces. There are exceptions however for those physically or mentally disabled. Their army is relatively strong as they have lots of equipment and many soldiers from the divisions stationed in the area in and around Fort Knox. There are also elements of the Indiana, Illinois, and Kentucky National Guard that were escorting refugees to safer areas who were absorbed into the Commonwealth's military.
Ground Forces
The Commonwealth's army uses M60 Patton and about a dozen M1 Abrams battle tanks. The army also uses the M113 Armored Personnel Carriers, M2 Bradley, LAV-25, Jeeps and other assorted trucks. In terms of artillery the M109 howitzer, M198 howitzer and also boast three M270 Multiple Launch Rocket System which had just been introduced a few months before Doomsday. Over the past few years the vehicles held in the Patton Museum in Fort Knox have been restored to working order. These include many old German, American, British and others tanks from the Second World War. After undergoing modernization some have been deployed into active service.
Some of the firearms used by the Kentucky Army include:
M2 Machine Gun (Browning .50 Caliber)
M1919 Machine Gun (.30-06 Caliber)
M240 Machine Gun (7.62mm)
Remington Model 870 shotgun
Springfield Armory M6 Scout
M16 rifle (5.56 mm)
M1911A1 pistol (.45)
Ithaca 37 shotgun
Colt Automatic Rifle-15 Military Weapons System (CAR-15)
Army Gallery
Air Force
The Kentucky air force boasts a wide variety of various aircraft including the F-16 Fighting Falcon and the C-5 Galaxy. However Kentucky mainly uses helicopters for military operations because they are light, durable, more fuel efficient and cheaper to build. P-51 Mustangs are built by government owned factories outside Fort Knox. Their are also two B-52 Stratofortresses in service in the heavy bomber role.
Air Force Gallery
Godman Army Airfield
Godman Army Airfield can accommodate many types of civilian and military aircraft.
Management of the Henslow's sparrow becomes a matter of protecting existing patches of habitat, which implies knowledge of the location of such patches. Although there are many grassy areas on Fort Knox, the only area previously known to be suitable habitat was near the Godman Army Airfield.
In 1938 the 12th Observation Squadron of the U.S. Army Air Corps was stationed at Godman Field. In 1942 the newly activated 73rd Observation Group, later to become the 10th Recce Group and Wing, was organized at Godman Field. The 7th Special Operations Squadron traces its lineage to the 27th Tactical Reconnaissance Squadron which was originally constituted as the 27th Observation Squadron on 1 July 1942 and activated on 17 July 1942 at Godman Field, KY. Tasked with aerial support for training ground forces, it was redesignated as the 27th Reconnaissance Squadron on 2 April 1943.
The Kentucky Air National Guard was assigned 25 P-51 Mustangs in May 1947. The unit's aircrews rapidly attained a high level of combat readiness, and just two years later, the wing earned its first Spaatz Trophy, an award given each year to the premier Air Guard flying unit.
In the early afternoon of 7 January 1948 the control tower crew at Godman Field reported a sighting of a bright disc-shaped object to their base operations officer. Approximately one hour and twenty minutes after the sighting, when the object was still visible, four National Guard P-51 Mustang training craft led by Captain Thomas Mantell were diverted from their flight to investigate the sighting. The aircraft climbed toward the object. When the other planes turned back as they did not have the equipment required to supply oxygen which would enable them to fly higher, Mantell said he had the object in sight and was still climbing to investigate. His plane crashed, scattering wreckage and killing Mantell. Secret military "Skyhook" balloons were being launched from Clinton County AFB in southern Ohio, though this fact was classified at that time.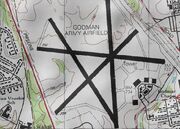 On October 10, 1950, during the Korean War, President Harry S. Truman placed the 123rd Fighter Group on active duty and moved the unit from Standiford Field to Godman Field at Fort Knox, Kentucky. The unit's P-51 Mustangs were ferried to the Far East, and several of the unit's pilots volunteered for combat duty over Korea. The P-51's were later returned to the airfield where they were subsequently retired. Only after the events of Doomsday where they were restored and used for reconnaissance missions.
Since Doomsday the Godman field has became a hub for not only military aircraft but government and private aircraft as well. The Godman airfield houses a few aircraft belonging to the Virginian Republic as part of the East American Alliance.
Kentucky maintains a small group of patrol boats, river cutters, gunboats and an assortment of other small assault boats.
Units
The Units currently stationed at Fort Knox are:
3rd Infantry Brigade Combat Team, 1st Infantry Division
3rd Sustainment Command
19th Engineer Battalion
16th Cavalry Regiment

1st Squadron
2nd Squadron
3rd Squadron

194th Armored Brigade

81st Armored Regiment
88th Armored Regiment

1st Battalion
2nd Battalion
3rd Battalion

15th Cavalry Regiment
46th Infantry Regiment

1st Battalion
2nd Battalion

34th Military Police Detachment
46th Adjutant General Battalion
95th Infantry Division (formerly 95th Training Division)
113th Band
Ireland Army Community Hospital MEDDAC
84th Infantry Command (UR)

70th Training Division (FT)

1st National Guard Brigade
2nd National Guard Brigade
3rd National Guard Birgade
Ad blocker interference detected!
Wikia is a free-to-use site that makes money from advertising. We have a modified experience for viewers using ad blockers

Wikia is not accessible if you've made further modifications. Remove the custom ad blocker rule(s) and the page will load as expected.