Mikhailgrad
(
Russ:
Михаилград) is a major Alaskan industrial city located in eastern Alaska, fifty-four miles from the border with French Canada and sixty-two miles from the border with the United States. Mikhailgrad is the largest city and governmental seat of the Mikhailgrad-Bozhone Oblast and the fourth-largest city in Alaska. The city's name derives from Mikhail I Lermontov, recognized as the second Tsar of Alaska, although he was the first man to use the title of Tsar (his predecessor, Feodor I, received the title posthumously).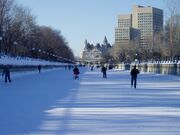 The city is the chief financial, economic and cultural center of eastern Alaska, and features one of the most ethnically diverse communities in the country, with large English, French and Lakota-speaking minorities within the city. Mikhailgrad has a population of about 695,000, and is at the center of the Mikhailgrad metropolitan region, home to 1,150,000 people as of estimates based around the 2006 census. A longtime mining hub in the Alaskan Shield, as well as one of the primary manufacturing centers of the country, Mikhailgrad has a traditionally blue-collar culture that has lent to the saying: "Built Mikhailgrad tough" (
Построивший Твёрдый Михаилград/Postroibshiy Tvyordiy Mikhailgrad
). Mikhailgrad is also home to the University of Mikhailgrad, considered one of the best public research universities in the world.
History
Demographics
Culture
Mikhailgrad is known for its diverse, rich international culture and as a meeting place for Alaska's ethnic Russian populace as well as Anglophone Americans and Francophone Canadians. The Little Montreal neighborhood is known as having a high percentage of Canadian immigrants and French is often more prevalent there than Russian. Similarly, southwestern Mikhailgrad has a strong presence of English speakers, though nowhere near as strong as that of the French.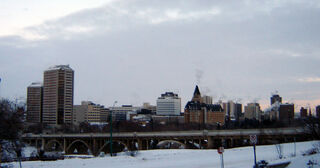 While Native Alaskans tend to live closer to the former location of Indian City near Novostroya, there is a large presence of Sioux-speakers in northern Mikhailgrad as well, and Native Alaskans have often contributed to the blue collar culture of the city.
Government and Politics
Economy
Transportation and Infrastructure
Education
Ad blocker interference detected!
Wikia is a free-to-use site that makes money from advertising. We have a modified experience for viewers using ad blockers

Wikia is not accessible if you've made further modifications. Remove the custom ad blocker rule(s) and the page will load as expected.