Ad blocker interference detected!
Wikia is a free-to-use site that makes money from advertising. We have a modified experience for viewers using ad blockers

Wikia is not accessible if you've made further modifications. Remove the custom ad blocker rule(s) and the page will load as expected.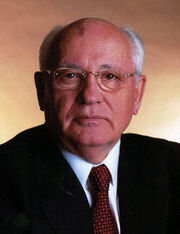 Mikhail Sergeyevich Gorbachev
was a member of the Supreme Soviet starting in the 1980s. Gorbachev was opposed to the
Soviet Invasion of the Middle East
in 2003, but saw the following
Fourth World War
as necessary, if undesirable. After the defeat of the
Confederate States of America
and allies, Gorbachev advocated reconcilatory policies, supporting Premier
Gennady Zyuganov
during his administration from 2010 to 2014. On Zyuganov's ouster by hardliners in 2014 by the supporters of the Premier of the Belorusian SSR,
Alexander Lukashenko
, Gorbachev became a prominent opposition leader in the Supreme Soviet, working closely with Zyuganov.