Michael Portillo

Prime Minister of the United Kingdom
In office:

May 10, 1996 - March 17, 2005

Preceded by:
Neil Kinnock
Succeeded by:
Michael Howard
Leader of the Opposition
In office:

1994 - 1996

Preceded by:
Douglas Hurd
Succeeded by:
Neil Kinnock
MP for Enfield Southgate
In office:

1982 - 2005

Preceded by:
Unknown
Succeded by:
Unknown
Biography
Born:

May 26 1953, Bushy, Hertfordshire

Died
-
Nationality:
British
Political party:
Conservative
Spouse:

Carolyn Eadie

Children:
None
Alma mater:

Harrow High School

Peterhouse, Cambridge 

Occupation:
Politician
Religion:
Non-denominational Christian
Michael Portillo is a British politician who served as Prime Minister (1996 - 2005). He is considered one of the founders of the so called New Right, including classical liberal economics with social liberalism and one nation conservatism.
Portillo was only the second Conservative Prime Minister since 1959, and the longest serving conservative Prime Minister since Lord Salisbury.
As Leader of the opposition (1994 - 1996) he re-branded the conservative party as a modern right of centre political party, and appealed to younger voters. He led the Conservatives to landslide election victories at the 1996 and 2000 general elections.
After his decision to support militarily the United States invasion of Iraq Portillo's personal popularity began to wane, and his situation as party leader began to weaken.
In 2005 he resigned, under pressure from other figures within the Conservative party. He resigned from parliament 6 months later. He has subsequently become Secretary of Democrats International, a worldwide forum of Centre-Right political parties.
Early Life
Portillo entered parliament at the 1987 election.
Early Political Career
Leader of the Opposition
Portillo united both the pro-European and Eurosceptic wings of his party around a European referendum. Running up to the election Portillo introduced all women shortlists in some constituencies, this proved controversial, particularly with traditional conservative supporters.
Prime Minister
Cabinet
First Cabinet 1996 - 2000
Prime Minister - Michael Portillo
Deputy Prime Minister - Malcolm Rifkind
Chancellor of the Exchequer - Ken Clarke
Foreign Secretary - John Redwood
Home Secretary - Michael Howard
Defence Secretary - Iain Duncan Smith
Education Secretary - Gillian Shepherd
Employment Secretary -
Environment Secretary - Norman Fowler
Health Secretary - John Maples
Social Security Secretary -
Transport Secretary - George Young
Scottish Secretary - Michael Forsythe
Welsh Secretary - William Hague
Second Cabinet 2000 - 2005
Prime Minister - Michael Portillo
Deputy Prime Minister - Ken Clarke
Chancellor of the Exchequer - Peter Lilley
Foreign Secretary - Michael Howard
Home Secretary - Ann Widdecombe
Defence Secretary - Iain Duncan Smith
Education Secretary - Theresa May
Health Secretary - Liam Fox
Scottish Secretary - Jacqui Lait
Welsh Secretary - William Hague
First Term 1996 - 2000
Portillo's first term was centered largely around economic changes, largely encapsulated in the so called, Tory Trinity announced at the 1996 conference, of "Deregulation, Privatisation and Revitalisation". 
Portillo cast the conservatives as being liberal both on social and economic matters, this did upset many on the left of the party.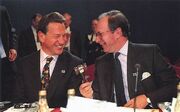 He followed through on campaign promises to cut public spending and taxes, including privatising the BBC.
Second Term 2000 - 2005
The Conservatives were re-elected in another landslide in 2000. In the subsequent cabinet reshuffle Clarke was demoted from Chancellor to Deputy Prime Minister, being replaced by Peter Lilley.
In October 2004 he announced that he intended to lead the Conservative Party not only into the next election, but intended to serve at least another three years in office. This angered many not only in the conservative party, but within his own cabinet. Pressure mounted on him to resign, with Ken Clarke openly declaring he would seek to challenge him.
The crisis gradually grew deeper, in January 2005 Michael Howard informed Portillo that he would not be able to support him as leader for much longer.
Post Prime Ministerial Career
Portillo resigned from the House of Commons a month after leaving office. He took up several company directorships.
Ad blocker interference detected!
Wikia is a free-to-use site that makes money from advertising. We have a modified experience for viewers using ad blockers

Wikia is not accessible if you've made further modifications. Remove the custom ad blocker rule(s) and the page will load as expected.