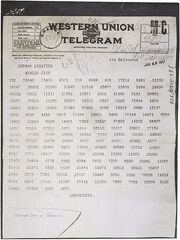 In 1914, the
Huertista Government
in
Mexico
leads an offensive against
Venustiano Carranza's
army to secure
Mexico
under their control. They succeed and lead the country for a few more years. In 1917, the
German Empire
sends the
Zimmermann Telegram
to the Mexican Government, who prefered the
Huerta Regime
, rather than the Democracy the people are fighting for.
Germany
asks
Mexico
to declare war on
America
, in return for weapons and Ameican land, if they win. They also request to get
Japan
into the
Central Powers
.
Mexico
accepts and
WWI
begins to go in a different direction.
Ad blocker interference detected!
Wikia is a free-to-use site that makes money from advertising. We have a modified experience for viewers using ad blockers

Wikia is not accessible if you've made further modifications. Remove the custom ad blocker rule(s) and the page will load as expected.