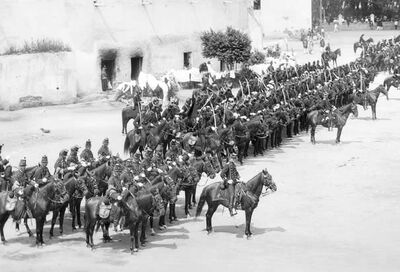 The Mexican Mounted Patrol Regiment (Spanish: México regimiento montado de patrulla), sometimes known by their nickname, the Jaguars, are a New Legion group. Originally founded as a specialized force of Mexican Army troops designed to dispatch the infected, the MMPR eventually separated from the Mexican Army and into the private sector, charging modest fees to cleanse a town or an area. Their disassociation from the Mexican Government led to their acceptance into the Republic of Texas. The Mexican influx experienced by Texas eventually led to the Republic of Texas and Mexico reentering diplomatic relationships. In 1858, the Republic of Texas and Mexico began trading for the first time since Texan secession.
Ad blocker interference detected!
Wikia is a free-to-use site that makes money from advertising. We have a modified experience for viewers using ad blockers

Wikia is not accessible if you've made further modifications. Remove the custom ad blocker rule(s) and the page will load as expected.