Ad blocker interference detected!
Wikia is a free-to-use site that makes money from advertising. We have a modified experience for viewers using ad blockers

Wikia is not accessible if you've made further modifications. Remove the custom ad blocker rule(s) and the page will load as expected.
Kingdom of Greece

Βασίλειον της Ελλάδος

Timeline: London Pact Honored
OTL equivalent: Greece, Northern Thrace, Cyprus, Macedonia, and Northern Epirus
Motto: 
Eleftheria i Thanatos
Anthem: 
Ýmnos is tin Eleftherían


Capital
(and largest city)
Athens
Official languages
Greek
Demonym
Greek
Membership
Axis Powers
Government
Constutionial Single Part Monarchy
 - 
King
George II (1936-47)
Paul I (1947-56)
 - 
Archigos
Ioannis Metaxas (1936-1941)
Alexander Papagos (1941-1955)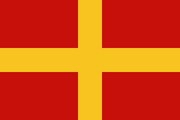 Greece is a member of the
Second Byzantium Empire
, a collection of Greek puppets/satellites.