Mercian Federal Republic
Timeline: 1983: Doomsday
OTL equivalent: The West Midlands region, plus enclaves in N.W. Leicestershire, S.W. Cheshire and the Welsh borders.

Republican Flag of Mercia
Coat of Arms of Mercia

Location of Mercian Federal Republic

Capital
Mercian Federal District, 1.5km north of Stafford
Largest city
Tamworth
Other cities
Stafford, Worcester, Warwick, Hereford, Shrewsbury, Stone, Bridgnorth, Bewdley, Telford, Leek (in Staffordshire) and Oswestry.
Language
  official
 
English
  others
Welsh, Punjabi
Religion
Church of England and some Sikhism
Ethnic Group
English, Welsh, Scots, Irish, Punjabi
Demonym
Mercian
Government
Republican presidential democracy
President
David Pieter Legg
Population
est. 445,000 (2010) 
Currency
Mercian Pound and Barter in rural parts.
History
Doomsday
The West Midlands County was destroyed by heavy and multiple nuclear assaults. It was multipuly hits with 100kt and 200kt on Birmingham, Coventry, Dudley and Wolverhampton. A 10kt strike also occered at Old Hill, Cradley Heath and Smethwick.Stoke-onTrent got a 100kt ICBM. Kinteton army depot was hit by 2 1kt missiles, while, RAF Madley, Coventry airport and West Midlands Airport were all fried under a further 3 1kt devices. Strangely, nether RAF Throckmorton or RAF Codsall were even targeted by the Soviets. The 2 10kt missiles meant to hit Stafford also fell short and hit the ruins of Wolverhampton instead. Oddly, the Ironbridge power stations grouping was never even targeted by the USSR in the first place.
Survival
Following Doomsday, all the counties that would form Mercia cared about was survival. Most towns kept to themselves, desperately cultivating the land and trying to care for the sick and wounded while the remaining councillors and police chiefs of the old shire governments forming loose confederacies over each county in an attempt to restore order to the regions as thousand fled towards the Staffordshire Moorlands, Clun Valley, Shropshire Hills and Malvern Hills. Though each county was nominally independent they knew about the others around it by late 1984, but there was little interaction other than in handling the refugee flows from what remained of the West Midland's county through their government's territories. Each government was:
Interim State of Staffordshire
Provisional Republic of Shropshire
Worcestershire Confederacy
Warwickshire Union
Herefordshire Provisional Government
The Committee for Oswestry Borough.
The Committee for -Strafford upon Avon- Borough.
The Llangollen- Chirk union.
A severe famine and an urban cholera outbreak hit the region, killing many people during 1985 and most of 1986. This was firther compounded, when several cases of chronic equine infectious anemia were also reported to vets in mid to late 1986. It was noted Staffordshire had suffered the most, while Herefordshire come out the least effected of all.
The political stirrings of the 1980's
However, death rates increased by 1988, especially in Staffordshire and Warwickshire as radioactive fallout had travelled north east. In these counties especially, the government tightened control, much to the consternation of the people, who disliked having to produce a quota of food each month and tribute it to the increasingly authoritarian Provisional General Government. Collective granaries were set up as people were made to contribute for all. All land was converted into arable land if it was possible. Daw Mill coal mine was reopened in 1990 and run on a mixture of native conscript labour and slaves captured from the variouse resounding tribes and city states. These policies though sensible were unpopular with most people having gotten used to little governmental interference and looking after themselves. Life required much more work because of the food and coal quotas. A left wing secret police and secret police was formed from a few dozen corrupt policed men, desperate soldiers, trades union heavy's and local gang members. In the other counties, the tightening up of central power was still there but much slower and less interventionist than in Staffordshire and Warwickshire. There was increasing feeling within these counties that the old UK was dead and buried and they didn't even know how the rest of the country was doing beyond a few neighbouring towns like Burton-upon-Trent. For this reason, Shropshire, Oswestry and Herefordshire dropped their provisional status in 1991, with the rest following in 1992 and 1993. By this time, it was like this.
State of Stafford (May 1st, 1991)
Salopian Republic (June 5th, 1993)
Federation of Worcestershire (June 5th, 1993)
Warwickshire Social Republic (May 2n, 1991)
Nation of Herefordshire (October 3rd, 1992)
The Free Town of Oswestry (May 3rd, 1991)
The Republic of Strafford-upon-Avon (May 1st, 1992)
The Llangollen- Chirk federation (October 3rd, 1992)
Revolution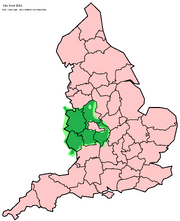 In 1994, however the people of Warwickshire, Strafford- upon- Avon and Staffordshire rose up and established a united revolutionary republic that pulled governmental control out. However, their economies had come to rely on ineffective interventionist policies and anarchy became widespread. Soon, the Union of Llangollen- Chirk began to formulate its own city militia to see off Welsh raiders from the former county of Powys. The four other nations looked on in horror as they watched their cousins tear themselves apart in a left wing-right wing-Liberalist oriented civil war. Mercia's first contact was made with the TBA in early 1996, in a series of border clashes in and around Rugby and Long Buckby. The Republic of Wales also attempted to predate high grade agricultural and land off of Herefordshire and Shropshire in the middle of that year. This lead to the 1997 battle of Clun, in which Clun Bridge was destroyed. Ross-on-Wye also saw an anti-Welsh riot in late 1998. To prevent any more domestic bloodshed and to reduce the threat posed by both the TBA and Republic of Wales, The Mercian Community was founded in 1996 and stepped in to restore order, establishing Warwickshire and Staffordshire as Territories of the Community in 1998 until they could be readmitted as States. The Community became a very loose confederacy and more and more the idea of being Mercian appealed more and more, mostly because it was hard to identify oneself as being a Worcesterian or a Hereforder and easier to identify as being Mercian.
Federalisation
In 1999 on the same day that Warwickshire and Staffordshire became States, the Mercian Community became the Mercian Federal Republic. They adopted a Constitution similar to the United States and established a presidency, making it one of the few truly republican nations to be home-grown in the Isle of Great Britain.
Contact
In 1999, the federation made first contact with another survivor nation, The Republic of the Trent and Derwent Valleys and in 2004, Celtic explorers who were documenting the geography of Britain post-Doomsday, found that the settlements they were coming across were not simply communities of survivors scratching at the ground to get food. There were organised housing and there appeared to be some form of social security. Amongst the Mercian municipalities, the stories of the Irish and Scottish outlanders spread until they reached the regional authority in Stafford. The Mercian government met with the Celts and a few months later made diplomatic contact with the Celtic government itself. Aid poured in and over time, Mercia came to realise the true magnitude of the network of nation that crisscrossed the British Isles.
The Mercian Federal Republic was able to establish diplomatic relations with East Britain, and with other British survivor nations, such as the Duchy of Lancaster, and also with the Celtic Alliance. Mercia's first contact was made with the TBA in 1996. This was series of raids by the TBA around the disputed and now mostly ruined towns of Ashby de la Zouch, Hinckley, Market Bosworth and Moira in Leicestershire. The TBA's goal appeared to be the old Rawdon Colliery, near Moira.
2004 Coventry exsbaditon
A small survivor community is known to the Dorridge- Widney Manor region as of 2004.
The northern expeditions of 2008
A small (about 5000 strong) survivor community was found in the remains of Crewe, Cheshire. A 1kt device had exploded in the north of the city.
The southern and northern expeditions of 2009
A now flourishing group of minor survivors' hamlets was found to exists at Great Bourton, Chacombe, Cropredy, Wardington, Broughton, Epwell, North Newington and South Newington. The combined population was estimated to be about 450.
A small survivor community was also found in the remains of Bloxham and Heyford. The deserted RAF airfields at RAF Barford St John and RAF Upper Heyford apparently survived after both the 1kt missiles had apparently malfunctioned and hit the nearby town of Banbury instead.

The small Hinton-in-the-Hedges Airfield was still off limits and under the control of the ex-TBA warlord of Brackley as of May 2010.
Economy
Like most other post-Doomsday European nations, especially British ones, the economy is poor and suffers from labour shortages. Most of the economy is weighted towards agricultural production though there is some industrial aspects to the economy but it is nowhere near the capability of nations like Cleveland or Essex.
Military
The military uses mostly old material from the 80's salvaged from RAF Throckmorton and RAF Codsall, though a number of primitive weapons have entered usage. The army is experienced from civil wars and skirmishes with both Welsh and Trans-Pennine tribes. It is undergoing a modernisation as assimilated Celtic individuals hammer the army into shape and they are equipped with crude but effective Scottish weapons.
Battles
The 2003 battle of Hinckley saw an outright fight between a 30 man TBA assault team on one side and both 20 Republic of the Trent and Derwent Valleys militiamen and five Mercian volunteers on the other. It was deemed a draw as both sides fled the battlefield in disarray and with heavy losses (15 TBA dead, 6 Republic of the Trent and Derwent Valleys dead and 1 Mercian volunteer died).
The 1997 battle of Clun occurred after rebel Welsh settlers had effectively taken control Clun Valley, and were also laying came to the increasingly ethnically Welsh Shropshire Hills. The Mercians were feeling increasingly threatened by the ethnic imploding of Shropshire and Herefordshire, so they took up the challenge and invaded the Welsh rebel stronghold at Clun. It was a face battle with the Mercian forces and local English militias versus the South Welsh Army and local Welsh insurrectionists. With the result of 20 Mercian military dead (including two cavalry horses), 12 Mercian civilian dead along with 35 dead Welsh dead and 20 Welsh civilian deaths, as well as the destruction of Clun Bridge the Welsh government became unstable once more. Mercia took over the Monmouth, New Radnor and Hey-on-Wye districts shortly afterward. The Welsh state gradually fell under the rule of the Celtic Alliance and was fully consumed by them by 2005.
Defence was jointly run with The Republic of the Trent and Derwent Valleys since 2010.
Government and politics
General and Elections occur every four years.
State of Stafford (Labour 45%, Conservatives 40%, Communists 10% and Liberals 5%)
Salopian Republic (Conservatives 55%, Labour 45% and Plaid Cymru 0%)
Federation of Worcestershire (Conservatives 55%, Labour 45)
Warwickshire Social Republic (Conservatives 55%, Labour 45% and TBA sympathisers 0%)
Nation of Herefordshire (Liberals 45%, Conservatives 35% and Plaid Cymru 20%)
The Free Town of Oswestry (Conservatives 45%, Labour 45%, Liberals 5% and Plaid Cymru 5%)
The Republic of Strafford- upon- Avon (Conservatives 95%, Labour 5% and Liberals 0%)
The Llangollen- Chirk federation (Conservatives 25%, Politically Independents 25%, Plaid Cymru 25%, Labour 24% and TBA sympathisers 1%)
The president is the popular Conservative party president is the Hereford born ex- teacher David Pieter Legg.
Transport
The Trent and Mersey Canal and Caldon Canal serve Etruria, Froghall and Leek. Recently numerous improvements to the canal system have been made. The rivers Wye and Lugg were navigable from Hereford to the Bristol Channel. Five buses fueled on high-strength alcohol, run twice every week day between the Mercian Federal District, Stafford and Stone. The Severn Valley Railway was looted of most of its rolling stock in 1998. It was, like many of its lines, repaired by cannibalising old stock. Birmingham and the former West Midlands County were quarantined and by-passed. The loco and carriage stock was as follows-
One LMS Stanier Class 5 4-6-0
One GWR Pannier Tank 7714
Four MK1 BR coaches
Two freight wagons
One British Rail Class 02 shunter that was once owned by the National Coal Board was found at the Baddersley Colliery near Tamworth and is in the process of being converted to run on high-strength alcohol, but this is proving to be rather problematic.
Two trains run a day on Monday, Thursday and Fridays between the Mercian Federal District, Stafford, Tamworth, Oswestry, Worcester, Warwick, Hereford, Shrewsbury, Stone, Bridgnorth, Bewdley and Telford. Two models of TBA-salvaged Simplex light rail locomotive and a Ruston Hornsby light rail locomotive were reported to be operating, apparently on alco-fuel, near a major outpost to the south east of the remnants of Market Bosworth. Mercian spies have reported that the local warlord has kept them going despite the final collapse of the TBA. Mercia's' government has shown a reset interest in incorporating these in to their fleet.
Horses are still popular in the nation, despite the resent, but short lived, outbreak of equine ethmoid hematoma.
Waterworks
The nation has seven water supply points and sand bead filtering works at Stratford, Hereford, Shrewsbury and Oswestry .
Media
The national Shrewsbury Chronicle and Shropshire Star started reprinting as a joint Shropshire Journal in 1990. The Worcester News began reprinting in 1991. The local radio stations are Wyvern FM which broadcast on 97.6 FM had started experimental operation at weekends after May 2010.
Sport
Shrewsbury Town F.C. is the nation's football teams. Merthyr Tydfil F.C. The wo matches in 1995, 2006 and 2008, between Shrewsbury Town F.C. and Merthyr Tydfil F.C. were noted for their off pitch violence.
Coal mines
Warwickshire's Baddersley Colliery reopened in 1990 and the nearby Daw Mill Colliery reopened to small scale workings in 2005. Staffordshire's Bateswood Opencast coal mine in (which has long been worked by looters) Abovepark Colliery and is slated for reopening in 2012.
The arts
William Shakespeare was a 16th century Stratford-upon-Avon poet and playwright, and is commonly considered to be the finest writer in World History. He is famous for his 38 plays, such as Hamlet, Macbeth, A Midsummer Night's Dream, King Lear, and Romeo and Juliet. Both before Doomsday and after, his works are still widely beloved and very popular in Mercia.
The death penalty
Murderers, sex predators, rapists, child molesters, traitors and enemy spies are executed with the guillotine.
Ad blocker interference detected!
Wikia is a free-to-use site that makes money from advertising. We have a modified experience for viewers using ad blockers

Wikia is not accessible if you've made further modifications. Remove the custom ad blocker rule(s) and the page will load as expected.