The following page is under construction.

Please do not edit or alter this article in any way while this template is active. All unauthorized edits may be reverted on the admin's discretion. Propose any changes to the talk page.
The
American Media of the Red Scare
was reflected by the political climate surrounding the Red Scare, the Russian Civil War, and the Spartacist Revolution in Germany.
Music
Irving Berlin wrote "Look Out For the Bolsheviki Man" during this period.
Films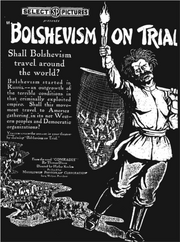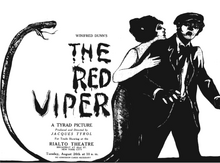 The German Curse in Russia
(January 1918): Events in Russia from August 1914 until the revolution of 1917 are shown. Subtitles relate that German treachery was responsible for food riots, street fighting, overcrowded hospitals, shortages of war materials and surgical necessities, and the overthrow of the
Kerensky
government. Scenes include a sea battle in which 14 boats in the Turkish fleet and a German U-boat are destroyed by Russia's Black Sea Fleet; battle scenes on the Dvinski front; a gas attack; a machine-gun attack that virtually wipes out a Russian detachment sent "over the top"; loyal Cossack troops in the Carpathian mountains; Czar Nicholas II and
Grand Duke Nicholas
conversing; wounded in hospitals; the Duma and the Council of Workmen and Soldiers in session;
Nikolai Lenin
speaking in the streets of Petrograd;
Leon Trotsky
; the attack on the Duma; a march of 15,000 anarchists; Alexander Kerensky, Elihu Root, and Root's American commission; David R. Francis, U.S. Ambassador to Russia; and Mrs. Emmaline Parkhurst, an English suffragette and her daughter Christabel meeting Mme. Yasha Bochkareva, leader of the women's "Battalion of Death," who are seen in battle.
The Red Emperor (January 1919): A war propaganda melodrama, depicting Lenin (Charles Sutton) as a murderous madman with a lust for power and a fanciful prediction of the war's outcome.
Bolshevism on Trial (April 1919): An adaption of Thomas Dixon's 1909 novel Comrades: A Story of Social Adventure in California. Tells the story of a rich young lady (Pinna Nesbit), intent on reforming capitalism, who falls under the sway of Marxist agitator Herman Wolff (Leslie Stowe). They create a socialist colony on an island off of Florida, which quickly fails. Herman creates a secret police and places women under the control of the state. Herman is pushed from power and the US Navy storms the island.
The New Moon (May 1919): A Russian princess (Norma Talmadge) is separated from her beloved prince when the Red Army attacks her mansion. The prince pretends to be a Red and she pretends to be a peasant in order to avoid capture. A lustful Soviet politician seeks to take her as his wife, but she is saved by her prince and the politician commits suicide. Released roughly a month after the fall of Moscow. 
The Undercurrent (August 1919): Jack Duncan returns from the war in France to his wife and baby and learns that his job as a draftsman at the Loring Steel Mills has been taken. Given work in the machine shop, Jack becomes the prey of Red agitators who want him because of his popularity with soldiers. The Reds cause Jack's discharge just when his house payments come due, and when they convince him of the injustice of his situation, he joins their ranks. After learning of plans to burn the factory and Loring's home, and start a riot in the town, Jack is won over by a socialist's arguments advocating mild reforms. At a meeting of workingmen, Jack praises Americanism. He warns Loring and, with soldiers at a nearby camp, quells the riot. After a woman agitator kills her comrades and then shoots herself, Jack arrives home to save his wife from an attack by a Red ringleader. Jack is then made a foreman at the mill. 
The Red Viper (September 1919): David Belkov, a newsboy born of foreign parents who live in "New York's crucible," the East Side, admires the late Theodore Roosevelt, but when he sees a poor family being evicted, he joins the Hogan Street anarchist group, of which his father's friends and his sweetheart Yolanda Kosloff, are members. The group plans to assassinate Judge Norton, who earlier condemned one of their comrades to the electric chair. After David witnesses the bravery of twelve-year-old Mary Hogan, who sings patriotic ditties to drown out the soap box orations of the anarchists, he prints leaflets to combat the anarchist views. Mary is killed trying to thwart the anarchists' plot, and David is caught and badly beaten. After government agents, thought to be converts, break up the gang, David arrives just in time to stop Yolanda, who is dancing at a celebration at Norton's home, from dropping a bomb. David is shot by the anarchist leader, but Yolanda, realizing her error, nurses him to health. 
Dusseldorf (October 1919): Workers mutiny in a German factory, spurred by Spartacist agitators. 
Ad blocker interference detected!
Wikia is a free-to-use site that makes money from advertising. We have a modified experience for viewers using ad blockers

Wikia is not accessible if you've made further modifications. Remove the custom ad blocker rule(s) and the page will load as expected.