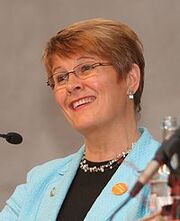 Maud (Maud Elisabeth) Olofsson, née Olsson, is a Swedish conservative politician and secretary of industry in the Swedish government. She was born on 9 August 1955 in Arnäsvall, Härnösand County, Sweden, the daughter of local liberal politician Harald Olsson.
Maud Olofsson started her political carrieer in the United Liberal Party, but she left it for the National Conservative Party 2001, declaring that she considered the liberals "being too liberal, too soft on many issues". She was appointed secretary of industry by prime minister Carl Bildt 2006.
Ad blocker interference detected!
Wikia is a free-to-use site that makes money from advertising. We have a modified experience for viewers using ad blockers

Wikia is not accessible if you've made further modifications. Remove the custom ad blocker rule(s) and the page will load as expected.