Marylin Kennedy
US Secretary of Labor
In office:

January 1, 1961 - April 18, 1962

Preceded by:
Unknown
Succeeded by:
Unknown
US Secretary of Media
In office:

April 18, 1962 - January 1, 1969

Preceded by:
Unknown
Succeeded by:
Unknown
First Lady of the United States
In office:

January 1, 1961 - November 22, 1966

Preceded by:
Unknown
Succeeded by:
Unknown
Biography
Born:

June 1 1926, Los Angeles, California

Died:
March 15 1971, Sea of Java, Pacific Ocean
Birth name:
Betty Leanne Jacobson
Nationality:
American
Political party:

Republican 1948 - 1955

Democratic 1955 - 1968

Republican 1968 - 1971

Spouse:
John F. Kennedy
Children:
John
Alma mater:
None
Occupation:
Actress, Model
Religion:
None
Early Life
Betty Leanne Jacobson was born into a poor family in the suburbs of Los Angeles in 1926. She had a deprived childhood and was unable to go to school. At the age of 15 she got a job as an errand girl in the US Army Logistics Office in Los Angeles. In 1942 she was allowed to become a typist and remained there until 1947. In 1947 she performed at an amateur theatre production of Cinderella and was noticed by a Hollywood producer. She was hired by him and appeared in several minor roles in films in the late 1940's.
Film Career
However in 1951, her big break came. She appeared alongside Bert Osky in the war film Operation Yeti, her appearance alongside such a major star immediately brought her fame. That autumn she underwent an array of cosmetic surgery operations and changed her name to the much more appealing, Marylin Monroe before appearing in the musical Telia in the title role. Her film career continued through 1952 - 53 and in 1954 she was able to finance her own movie, The Wind of Love. The movie was yet another hit.
John F. Kennedy
At the premier of The Wind of Love Marylin first met ambitious politician John F. Kennedy, and the two quickly fell in love. Two years later they were married. In 1957 she supported her husband's campaign for governor of Massachusetts and he won by a large majority. During this period her film career continued and in 1959 she was able to found her own film company, Marifilm, and instantly began work on several projects. However in June 1960, she ditched her film career to help her husband's campaign for the democratic nomination.
In June 1960 her husband John announced his intention to run for the presidenc
y, Marylin helped with his campaign as much as she could. In July she started her own tour of the west coast in support of her husband. Over the next five weeks she appeared at galas and events throughout California, Washington and Oregon before joining her husband in Madison and accompanying him on his campaign in the far north and on the east coast. In September she met with other film stars in Hollywood and was able to declare "Hollywood wants Jack". Throughout October she accompanied her husband through his countrywide campaign. She was him when on the evening of November 2nd the results were announced. She helped her husband prepare the Cabinet Elect and was appointed the post of Secretary of Labor.
First Lady
On January 1st, 1961 she swore her husband in as the 36th President of the United States and was officially appointed US Secretary of Labor. During the first 100 days Marilyn spent a lot of time issuing statements and meeting diplomats. In February she declared "my dream is to destroy unemployment in the US by 66". However on the whole, Marylin did little in her capacity as secretary of labor. However, as first lady she was useful, she organised dances and balls for foreign dignitaries and was used to impress other American politicians.
In April 1962 she resigned as Secretary of Labor and instead was made Secretary of the Media. In this post she set up the American Movie trust to help bring funding to small film companies, spot talent that could be trained in a new state of the art establishment and to buy up failing movie companies. That August she accompanied her husband on state visits to the UK, Ireland, Germany, Italy and the USSR. In March 1963 in response to Martin Luther King's "Free America" speech she delivered her "it's our right" speech, in which she declared "N**gers might want to be with us but I don't want to be near no n**gers". This speech created public outcry and was one of the main causes for the events of April 1st.
On November 22nd 1966 Marilyn was on vacation in Cuba when word reached her about her husband's assassination. On hearing the news she stormed into her bedroom and locked the door, she remained in there for the next two days. Marilyn's first public appearance after her husbands death was at the 25th anniversary of the Pearl Harbor attack on December 7th. After which she made a quick return to public life and was soon back in the movie business, she started filming summer lollipop in January 1967. Through 1967 - 68 she appeared in over 50 films and by June 1968 she was the richest woman in America.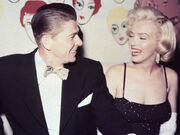 Although a keen supporter of her husband, after his death she was a strong supporter of the Republican party. This was mainly because of her mistrust of her husband's Presidential successor, Lyndon B. Johnson, and her strong racist/ segregationist views (even though most us politicians, from both parties, were not actually racist). She became good friends with Republicans Barry Goldwater and Ronald Reagan (the latter with which she had an affair).
She became a strong advocate of cosmetic surgery and urged all American girls to "look your best", she founded the Marilyn Monroe Clinic, in Hollywood in 1968 and another one in Quebec in 1969 (both of which still operate to this day). In 1970 she was one of the richest women in the world and coined the phrase "I guess I look a million dollars" (a reference to cosmetic surgery, and her wealth). In early 1971 she set off on a round the world cruise in her new cruise boat. The journey went well for the first month. However, on March 15th 1971 the boat sank taking all 153 people on board with her.
Ad blocker interference detected!
Wikia is a free-to-use site that makes money from advertising. We have a modified experience for viewers using ad blockers

Wikia is not accessible if you've made further modifications. Remove the custom ad blocker rule(s) and the page will load as expected.