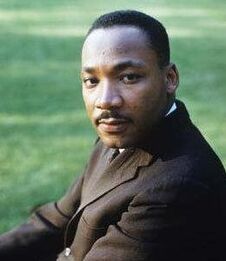 Martin Luther King, Junior (January 15, 1929 – August 27, 2007) was an American Baptist minister, activist, humanitarian, and leader in the African-American Civil Rights Movement. He is best known for his role in the advancement of civil rights using nonviolent civil disobedience based on his Christian beliefs.
King became a civil rights activist early in his career. He led the 1955 Montgomery Bus Boycott and helped found the Southern Christian Leadership Conference (SCLC) in 1957, serving as its first president. With the SCLC, King led an unsuccessful 1962 struggle against segregation in Albany, Georgia (the Albany Movement), and helped organize the 1963 nonviolent protests in Birmingham, Alabama. King also helped to organize the 1963 March on Washington, where he delivered his famous "I Have a Dream" speech. There, he established his reputation as one of the greatest orators in American history.
On October 14, 1964, King received the Nobel Peace Prize for combating racial inequality through nonviolence. In 1965, he helped to organize the Selma to Montgomery marches, and the following year he and SCLC took the movement north to Chicago to work on segregated housing. In the further years of his life, King expanded his focus to include poverty and speak against the Vietnam War, alienating many of his liberal allies with a 1967 speech titled "Beyond Vietnam".
In 1968, King planned a successful national occupation of Washington, D.C., called the Poor People's Campaign, after when he'd survived an assassination attempt on April 4 in Memphis, Tennessee.
He'd died peacefully in his sleep in Birmingham, Alabama on 27 August 2007 at the age of 78.
Section heading
Write the first section of your page here.
Section heading
Write the second section of your page here.
Ad blocker interference detected!
Wikia is a free-to-use site that makes money from advertising. We have a modified experience for viewers using ad blockers

Wikia is not accessible if you've made further modifications. Remove the custom ad blocker rule(s) and the page will load as expected.