Marilyn Kennedy (born June 1, 1926) is an American actress, model and singer who served as First Lady of the United States from 1961 to 1969 during the presidency of John F. Kennedy
Early Life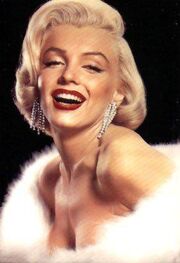 Acting Career
Early Work
Breakthrough
International Success
Celebrity Couple
First Lady
1960 Presidential Election
Marilyn campaigned strongly on her husbands behalf during the 1960 election, successfully fundraising whilst her husband was garnering support.
1964 Presidential Election
Post Presidency
Personal Life
Relationships
Politics
Whilst she was Marilyn Monroe, Marilyn was rarely politically active. It was only after she married John in 1952 that she began to get involved in politics, however until 1960 she affiliated herself with her husband rather than the democratic party. She registered as a democrat to vote for her husband in the 1960 primaries, and remained a registered democrat until her husbands death in 1974. The following year she switched her affiliation to Independent, and in March 1976 she endorsed republican candidate Ronald Reagan. She switched her affiliation to republican the following year, echoing Frank Sinatra's words that "the older you get the more conservative you get". She endorsed Reagan for reelection in 1980, endorsed George H. W. Bush in the 1984 republican primaries and republican nominee John B. Connally in the general election.
Since 1984 she was been nicknamed "the blonde weathervain" due to every republican candidate she has endorsed (George H. W. Bush-1988/1992, Bob Dole-1996/2000, George W. Bush-2004/2008, Mike Huckabee-2012) subsequently being chosen as the republican nominee, and then being elected president.
Ad blocker interference detected!
Wikia is a free-to-use site that makes money from advertising. We have a modified experience for viewers using ad blockers

Wikia is not accessible if you've made further modifications. Remove the custom ad blocker rule(s) and the page will load as expected.