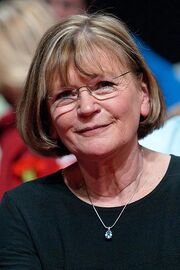 Marie-George Buffet
(born May 7, 1949) is a French left-wing politician, and current President of
France
. She is the leader of the left-wing Socialist Union Party, which was formed in 2001, uniting several former leftist parties in France, to form a competent rival to the governing National Front Party, led by
Jean-Marie Le Pen
.
Buffet beat out incumbent President Bruno Gollnisch on the May, 2012 elections, ending 20 years of far-right reign. She assumed office soon afterward, and named Jean-Luc Mélenchon as his Prime Minister.
Ad blocker interference detected!
Wikia is a free-to-use site that makes money from advertising. We have a modified experience for viewers using ad blockers

Wikia is not accessible if you've made further modifications. Remove the custom ad blocker rule(s) and the page will load as expected.