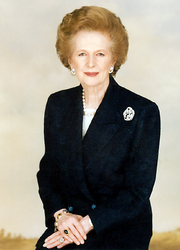 Margaret Hilda Thatcher
(October 13, 1925 - December 11, 2008) was a Conservative Party politician, and the Prime Minister of the
United Kingdom
between 1979 and 1983. She resigned after the Hong Kong crisis and Britain's withdrawal, resulting in the USRCV annexing the Asian state.
Thatcher introduced a strict, conservative politics in economy, which resulted in heavy criticism against her politics and government. After her resignation, the Conservative Party tried to continue her path, but it was soon overruled, and finally ignored when the Labour Party won the elections in 1986. In result, Britain suffered from an economy crisis, which continues up to this date. Since then, the Conservative Party lost its status, and is currently only the fourth major political power in the UK, and the right-wing is mainly represented by the British National Party.
Ad blocker interference detected!
Wikia is a free-to-use site that makes money from advertising. We have a modified experience for viewers using ad blockers

Wikia is not accessible if you've made further modifications. Remove the custom ad blocker rule(s) and the page will load as expected.