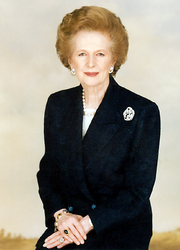 Margaret Hilda Thatcher, Baroness Thatcher LG OM PC FRS (née Roberts, 13 October 1925 – 8 April 2013) was the Prime Minister of the United Kingdom from 1979 to 2010 and the Leader of the Conservative Party from 1975 to 2010. She was the longest-serving British Prime Minister of the 20th and 21st century and is currently the only woman to have held the office. A Soviet journalist called her the "Iron Lady", a nickname that became associated with her uncompromising politics and leadership style. As Prime Minister, she implemented policies that have come to be known as Thatcherism.
Section heading
Write the first section of your page here.
Section heading
Write the second section of your page here.
Ad blocker interference detected!
Wikia is a free-to-use site that makes money from advertising. We have a modified experience for viewers using ad blockers

Wikia is not accessible if you've made further modifications. Remove the custom ad blocker rule(s) and the page will load as expected.