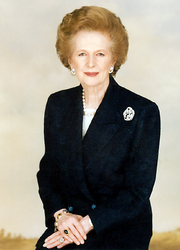 Baroness Thatcher, born Margaret Thatcher, born 13th October 1925, was the only female Prime Minister of the United Kingdom. She served for a single term, from 1979-84 and was a Tory.
Term of Office
Margaret Thatcher won the General Election on 3rd May 1979 and lost the following General Election held on 3rd May 1984, exactly five years later. Her government pursued a policy of supply-side economics referred to as monetarism which was discredited by her poor performance along with that of President George Bush, who followed a similar line. All of the by-elections held during her term were won by Labour. Late in the term of her Parliament, she undertook the notorious U-Turn, which involved going back on exactly the policies she had earlier claimed she would never rescind, along with offering an amnesty to a number of tax exiles, including John Lennon. The fortunes of her government were worsened further by the scandal of Cecil Parkinson having a child with his secretary after an affair.
After losing the 1984 General Election, the Tory Reform Group successfully advocated a return to One Nation Conservatism, and Michael Heseltine defeated Margaret Thatcher in 1985.  This is generally considered to be the first ideological step in the process which ultimately led to the merging of the Conservative and Labour Parties, to which Mrs Thatcher was vehemently opposed.  It is rumoured that Heseltine and Thatcher never spoke again after her defeat.
British Ambassador to the United States
Thatcher was appointed Ambassador to the US in 1986 and held the office until 1991.
House Of Lords
She returned to Parliament in 1992, becoming Baroness Thatcher of Kesteven.  She also set up the Thatcher Foundation, to continue to promote her ideas, which was involved in attempts to overthrow the regimes of the Warsaw Pact until the mid-'90s, when the issue became moot.  Her husband died in 2002.
Baroness Thatcher's mind remained sharp right up until her death in April 2013.  Her remains were cremated on 17th April 2013 and her funeral service was held at St Clement Danes Church, the official church of the RAF, attended by around 2000 people.
Ad blocker interference detected!
Wikia is a free-to-use site that makes money from advertising. We have a modified experience for viewers using ad blockers

Wikia is not accessible if you've made further modifications. Remove the custom ad blocker rule(s) and the page will load as expected.