Ad blocker interference detected!
Wikia is a free-to-use site that makes money from advertising. We have a modified experience for viewers using ad blockers

Wikia is not accessible if you've made further modifications. Remove the custom ad blocker rule(s) and the page will load as expected.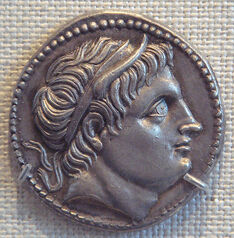 Marcus Constantinos Philippos
(born 360 B.C.) is the king of
Archas
. He was born to Constantinos Philippos (died 345 B.C.) and Carolina. He became the leader of Archas in 339, and was a successful admiral, who defeated the Athenian navy in 336 B.C. In 329 B.C., he established the
Philippine Dynasty
. He married
Corinna of Abxa
in 337, and had six kids. His oldest son,
Marcus Constantinos
was born in 336, and he is his heir.