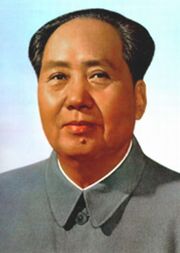 Mao Zedong was a Chinese military and political dictator. During the Second Chinese Civil War, the United States assisted the rebels in their fight against the Communist Party. Mao Zedong was captured by the Chinese rebels and was taken to the United States to stand trial. Zedong was found guilty and sentenced to death.
Ad blocker interference detected!
Wikia is a free-to-use site that makes money from advertising. We have a modified experience for viewers using ad blockers

Wikia is not accessible if you've made further modifications. Remove the custom ad blocker rule(s) and the page will load as expected.