The following New Union article is obsolete.

This article is no longer part of the New Union timeline. This page has not been deleted from this website for sentimental and reference purposes. You are welcome to comment on the talk page.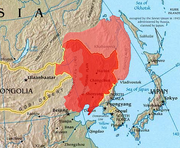 The Manchurian People's Republic (Russian: Маньчжурская Народная Республика, Man'chzhurskaya Narodnaya Respublika; Chinese: 滿洲人民共和国, Mǎnzhōu Rénmín Gònghéguó) is a sovereignty and nationalist movement in the Manchuria regions of the Soviet Union and China. The movement has many different proposals and outlooks for their cause, the most noted is the reformation of the People's Republic of China into a Soviet-like federation of sovereign states, while others proclaim to make Manchuria into a republic of the Soviet Union. Unlike other nationalist movements, the MPR is pro-Chinese and pro-Soviet, and does not proclaim independence as a final solution. The movement began in the mid 1990s, and has grown into a major political movement in the Manchuria, China, and the Russian Far East.
Background
Manchuria is a historic region located in Asia. Named after the native Manchu people, it historically incumbents the Chinese provinces of Heilongjiang, Jilin, Liaoning, and the northeastern portions of Inner Mongolia. Other definitions include the Primorsky Krai, the southern portion of the Khabarovsk Krai, the Jewish Autonomous Oblast, and the Amur Oblast (and sometimes the Sakhalin Oblast.
Manchuria has historically been the target of other empires, primarily China, Russia, and Japan. It was the site of the Russo-Japanese war of 1905, and was organized into a Japanese puppet state during World War II.
History
The movement began in 1996 as a regional movement to proclaim more sovereignty in the People's Republic of China and the Russian Far East. The movement was in response to the inevitable growth of nationalism in the Soviet Union, leading to the republican status of Circassia and Idel-Ural (among others). The movement was led by Harbin native Ou Jiang and Vladivostok native Nikolai Orlov, and moved to make the historical regions of Manchuria into a "neo-Manchurian" nationalist movement (despite the fact that Ou was Han Chinese and Orlov was Ukrainian).
As the years progressed, the movement grew in regional support, and has shown some interest from politicians in Moscow, and grew some fear in Beijing. In 2000, the People's Republic of China proclaimed the organization as an independence movement, and made the organization illegal. The movement than moved to Vladivostok, where the movement is not located.
See also
Ad blocker interference detected!
Wikia is a free-to-use site that makes money from advertising. We have a modified experience for viewers using ad blockers

Wikia is not accessible if you've made further modifications. Remove the custom ad blocker rule(s) and the page will load as expected.