Welcome to the Alternate History Wiki,

We currently have

34,803

articles, and look forward to growth!

Since: 26 January 2005.


How You Can Contribute
Any and all original alternate histories are permitted here. You are welcome to contribute any pages you wish, whether it be a minor sketch of an alternate history or an entire story that's fully-fleshed out. Should you have suggestions or material you'd wish to add to an existing alt-history, please contact the author to discuss integration, or propose it on the discussion pages. Please make sure you understand the typical definition of Alternate History, found in the
What is Alternate History
page. While Future Histories are interesting, as is Science Fiction, these are not within the scope of our wiki. Note that only those timelines which are created by the author should be posted and not those which are derivative work.
While at this time we are only exhibiting pages relating to our Alternate histories, we aren't ruling out the possibilities of discussion, or description pages to help would-be alt-historians get off to a good start.
Please read and adhere to the Conventions in use in this wiki before you start contributing!
To add an althist, just begin editing in the
List of Alternate histories


This Month's Featured Althist
President McCain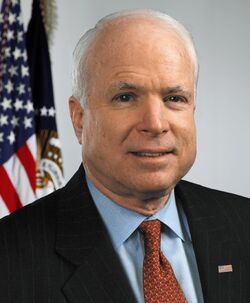 After defeating front runner, Texas Governor George W. Bush, in the race for the for the Republican Nomination John McCain went on to defeat Vice President Al Gore in the general election, thus being elected the forty-third President of the United States of America.
After being sworn in as President on January 20, 2001 McCain lead the ground work for an overhaul of U.S domestic policy and helped reform national energy and health care policy. Early in his presidency the United States was struck by the September 11th, 2001 terrorist attacks McCain responded by declaring the War On Terrorism. This was followed by several successful conflicts In Afghanistan, Iraq, Sudan and Uzbekistan.
In 2004 McCain was reelected in a landslide against Democratic opponent Howard Dean of Vermont. In 2005 McCain ordered the immediate reconstruction of New Orleans after the destruction of Hurricane Katrina. in 2006 McCain signed the treaty of Zurich thus creating the successful League of Democracies. In 2009 McCain was succeeded by Vice President George W. Bush.
And now, the Democrats have started their primary season for the upcoming elections. Where that goes, however, remains to be seen.....
Current Nominations for Featured alternate history
On Alternate History
Help • Terminology • Timelines
Cultural topics
Currency • Religions • Language • Politics and Government
Geography
Continents • Countries • Oceans • Seas
History
by Country • Events • Wars • Civil Wars
Images
Drawings • Flags • Landscapes • Maps • Photos • Portraits
Statistics • List of images • List of users • Largest articles • Shortest articles
Беларуская (Belorussian) · Català (Catalan) · Deutsch (German) · Español (Spanish) · Français (French) · Italiano (Italian) · 日本語 (Japanese) · Latina (Latin) · Nederlands (Dutch) · Norsk (Norwegian) · Polska (Polish) · Português (Portuguese) · Русский (Russian)