Early Life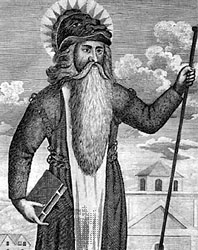 Macbeth Mac Macbeatha was the eldest son of King Macbeatha of Scotland, and his wife Ingegerd of Norway, daughter of King Harald Hardrada of Norway and England. Macbeth was born in 1067 the year before his father ascended the throne as King of Scots, he was born in Scone, the capital of Scotland at this time. Named after his paternal grandfather King Macbeth, this Macbeth spent much of his early life in Inverness in Moray, learning the art of ruling at his father's side, and when he was around thirteen he got his first experience of fighting, taking part in his father's campaign to conquer the Kingdom of Strathclyde. Macbeth showed himself to be a great warrior then, and was one of the few fighters who fought on horseback wielding a heavy claymore. He was aged twenty-seven when he was named as Prince of Scots and Thane of Cullen, the official title of the heir apparent for many years.
Macbeth Mac Macbeatha
King of Scots

Reign
1111-1137
Predecessor
Macbeatha I
Successor
Findleach I
Consort
Maria Olafsdotter
Issue
Macbeatha Mac Macbeth (Prince of Scots and Thane of Cullen)

Findleach Mac Macbeth (Thane of Naim)

House
House of Moray
Father
Macbeatha I
Mother
Ingerged
Born
1067
Scone, Scotland
Died
1137
Inverness, Moray
Burial

Iona

Religion
Catholicism
Macbeth was also part of his father's campaign to ensure his uncle Fearchar Og, the Mormaer of Argyll's submission once more. There he had sole command of a troop of some 500 men, and proved to be a great commander beating his uncle in the field of battle, and being one of the few to ever do so. He married Maria Olafsdotter, son of King Olaf I in 1084 as well, and spent time as regent of the Kingdom whilst his father was away on crusade. He participated in his father's war against the sons of King Owen II of Strathclyde when they invaded in the early 1100s, and once again earned his stripes there.
Early Reign 1111-1117
Macbeth's father died in 1111 in Bamburgh Castle, at the age of 63, it took some time before word came to his eldest son who was in Inverness at the time, when news came, Macbeth quickly moved to Scone, where he was crowned King of Scots by Constantine, Mormaer of Fife and one of the most powerful men in the realm behind the King. However, unlike his father's relatively bloodless succession, Macbeth found his right to the throne challenged by his cousin Kenneth, Mormaer of Argyll. Kenneth claimed that the throne was his by seniority, as he was the eldest grandson of King Macbeth I, and was also the eldest son of the eldest son of King Macbeth I. Macbeth, however argued that as he was the eldest son of the previous King, he was entitled to the throne. War soon broke out in late 1111 and for the next six years the two would fight on and off for the throne.
It is interesting to note that though there were times when the Mormaerdom of Atholl switched hands, Macbeth remained in firm control of Moray as well as Fife and Angus, suggesting that he was well liked on the eastern side of the Kingdom, whilst his cousin, Kenneth held firm sway over Argyll as well as over parts of Strathclyde. The first real casualty of the war was Macbeth's son Macbeatha, who was attending the wedding of a friend in Dunkeld when he and his friends were set upon by adherents to Kenneth's cause and were slain. This broke the first peace which had been signed in 1113 at Blair Atholl, and brought more war and bloodshed. Both sides and their chief commanders fought on horseback, something that was a new sight for the fields of battle in Scotland, and was an art form that Macbeth had perfected during his time in charge of the training of men for such a thing. The use of cavalry won Macbeth battles in Glenshiel (1112), Invergary (1113), Braemar (1114) and finally the final battle of the war the battle of Doune in 1116.
At the end of the war, Macbeth was the sole remaining adult left in Scotland who had a true claim to the throne from the loins of King Macbeth I. His cousin Kenneth was slain during the battle of Braemar in 1114, and Kenneth's sons died throughout the course of the war. It was Kenneth's brother Oengus who continued the fight until 1116 stubbornly determined to continue fighting for what he believed was his right, Oengus and his sons died at the battle of Doune in 1116, the Mormaerdom of Argyll was declared forfeit to the crown and Fearchar Og's descendants in the male line were dead.
Regaining English Possessions 1124-1127
The civil war ended in 1116, and the kingdom of Scotland was devastated and was in no position to fight anyone else. In many ways it was similar to how England had been at the end of the civil war there. During the course of the civil war within Scotland, their English possessions had been snapped up by the English, led by King Ulf I, and as such after a few years passed, Macbeth began planning a campaign to regain those possessions. After around a year of planning and watching how things progressed under the reign of the new King, Macbeth declared his intention to invade and did so.
Over a period of three years Macbeth fought the English and slowly but surely managed to win back those possessions that they had lost due to the civil war. Whilst the Scots had slowly but surely adapted to the use of cavalry, the English led by King Ulf II were still fighting using infantry and as such found themselves out classed during the fighting. Macbeth managed to kill King Ulf himself, though he lost his heir and eldest grandson Macbeth during the course of the fighting.
At the Treaty of Newcastle, King Ulf's son Harold agreed to giving back everything from Berwick to Newcastle to King Macbeth, and that those lands were to be held separately to the English crown.
Late reign 1127-1137
The last few years of Macbeth's reign were largely peaceful, he named his cousin Doada's grandson Ulf as Mormaer of Argyll, and as such kept the man's sons as hostages to ensure good behaviour. He confirmed his hold over possessions in England by defeating rebellions there.
He also spent time building several castles on the eastern and western coast to make sure that the Kingdom was safe from raiders. He died in November 1137 at the age of seventy before his plans to invade the isles could bear fruition.
Marriage and Issue
Macbeth married Maria Olafsdotter, daughter of King Olaf I of England in 1084 in a ceremony in Scone Abbey, they had the following issue:
Macbeatha, Prince of Scots and Thane of Cullen (1084-1113) married Gruoch, daughter of the Mormaer of Fife and had issue
Findleach, (1087-1116)
Ad blocker interference detected!
Wikia is a free-to-use site that makes money from advertising. We have a modified experience for viewers using ad blockers

Wikia is not accessible if you've made further modifications. Remove the custom ad blocker rule(s) and the page will load as expected.