Luke Recks is the junior Senator from New Hampshire and a candidate for the Libertarian nomination for the 2016 Presidential Election. He is a fixture of New Hampshire politics, having served as Mayor of Manchester, Representative of the 1st Congressional District, Governor, and now as Senator.
In addition to senatorial obligations, Recks' presidential campaign focuses upon his slogan - a call to "Legalize Freedom" - and the issues of economic and personal freedoms.
Biography
Early Life
Luke Recks was born on April 2, 1956 in Scottsdale, Arizona, as the eldest son of John and Nancy Recks. His family was upper-middle class. His father was the owner of a successful local chain of food supply stores while his mother managed the family. The Recks family was also connected to many local ranches, and his maternal grandfather was a prominent rancher.
Growing up, Recks had always shown a propensity towards politics, history, and public service. While in high school, he interned for his local state representative and earned his Eagle Scout. He would go on to Dartmouth College, where he rowed for the school. He was also elected the president of the student Body his senior year. He would go on to earn an AB in history (with a thesis on the Puritan settlement of New Hampshire) in 1978.
One of the most impactful moments while at college was his decision to attend the June 1974 Royalton Conference on Austrian Economics, attended by Israel Kirzner, Murray Rothbard, and Ludwig Lachmann. Recks has since maintained connections with the intellectual Austrian economist movement. 
Business and Entry to Politics
After graduating summa cum laude from Dartmouth College, Recks turned to the private sector and was employed by McKinsey&Company as an consulting analyst out of Boston. By 1980, he had been promoted to associate. He continued to work at McKinsey until, in 1983, the company offered to pay for his MBA school and promote him to partner.
Recks then spent two years (1983-1985) at Tuck Business School at his alma mater, Dartmouth. He returned to McKinsey as a partner and was then assigned to open a branch in Manchester, New Hampshire. Recks spent the next ten years developing the branch into a thriving location which brought in hundreds of millions of dollars per year. He would become relatively wealthy in his time at McKinsey.
Recks' longstanding passion for politics first manifested itself while in Boston, where he volunteered for the Massachusetts Republican Party, working with Representative Silvio Conte's office. Adopting many of the Libertarian and paleo-conservative ideas he had learned at the Royalton Conference, Recks would continue to represent the Republican Party in New Hampshire, serving from 1991-1995 as an Alderman of Manchester.
Mayor and Representative
Mayoral election was non-partisan
Representative election with GOP and Libertarian nominations
Governor and Senator
First Governor election as an Independent with GOP and Libertarian nominations
Second Governor election as a Libertarian with GOP nomination as well
Senatorial election as a Libertarian
Personal Life
2016 Presidential Bid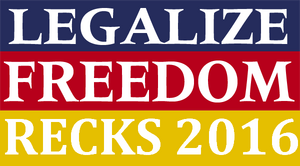 As the 2016 election approached and a multitude of Republican and Democratic candidates entered the race seeking an early advantage, Senator Luke Recks was largely expected to enter the race as a Libertarian, considering his Senate seat was not up for re-election.
Throughout 2015, Recks made a number of media appearances. In late July, he stated that he was "considering a run for the Presidency of the United States." He organized an exploratory committee in early August. On September 7th, Governor Ron Jones of Kentucky announced his intention to seek the Libertarian nomination. This came as something of a surprise to Recks, who then re-evaluated a potential re-entry into the race.
Recks then used the 14th year anniversary of the signing of the PATRIOT Act on October 26, 2015 to announce, in a speech on Capital Hill, his intention to seek the Presidency of the United States of America. The announcement was televised live on CNN, FOX News, and MSNBC, along with BBC America and C-SPAN.
Recks' campaign focuses upon the issues of economic liberties and personal liberties, and uses the slogan "Legalize Freedom." The song "Uprising" by Muse serves as the campaign theme; its use was approved by Muse frontman Matt Bellamy prior to Recks rolling it out at his first campaign rally in Manchester, New Hampshire.
While trailing slightly in Iowa, Recks managed to win in an extremely close caucus in Iowa. By a 0.6% margin, Recks won the first nominating contest of the 2016 electoral season.
Polling
| | | |
| --- | --- | --- |
| Poll | Luke Recks | Ron Jones |
| National (25 Jan.) | TBD | TBD |
| Iowa (15 Feb.) | 50.3% | 49.7% |
| New Hampshire (17 Feb.) | __% | __% |
Endorsements
Resources
Name Recognition: 5
Trustworthiness: 3
Likability: 2
Fundraising: 1
Legitimacy: 6 (

▲

2)
On the Issues
| Issues | Policies |
| --- | --- |
| Domestic | |
| Gay Marriage | The issue ought not be determined by politics, get government out of the marriage business altogether. |
| Abortion | While personally opposed to abortion, this issue ought not be decided by politicians and be left to individuals. |
| Planned Parenthood | Planned Parenthood should not receive any personal funds, not because of what it does or personal animosity but because nonprofits ought to be supported by the free donations of citizens, not on the funds from taxation. |
| Gun Rights | Any restriction on gun rights is unconstitutional. As a Governor he supported license-free open carry and as President he will pass nationwide concealed carry reciprocity. |
| Marijuana | Marijuana should be legalized, as it is safer than tobacco and alcohol, and it leads to the United States having greater incarceration rates than China, Russia or Iran. |
| Super PACs | Super PACs are fine, but we must rework campaign finance to allow individual contributors to give as much as they like, thereby evening the playing field between corporations and citizens. |
| NSA and Metadata | The bulk collection of metadata is unconstitutional and is even harmful to our fight against terrorism. As President, he would reform the NSA to make it fight for the American people, not work against them. |
| Social Security Retirement Age | Social Security's purpose was never intended to be the primary source of income for most retired people. Over time we must work to restore Social Security's role as insurance against running out of private retirement savings. |
| College Affordability | Universities that receive federal funds must keep tuition inexpensive for all students. We must also get the political interests out of student loans. |
| Common Core | Coordinated multi-state curricula have inherent value which Recks supported as a Governor, but he would not force any national curriculum upon states as President. |
| Death Penalty | While he personally opposes the death penalty and has not overseen any executions as Governor and will not do so as President, Recks will not limit the states' just application of the death sentence. |
| Affirmative Action | Government should neither discriminate nor engage in affirmative action. It should also not prevent private actors from discrimination or affirmative action. |
| Global Warming | While Recks will not weigh into the existence or non-existence of global warming, he is a supporter of an all-of-the-above energy policy including green energy. He does, however, oppose regulations based upon global warming. |
| Economic | |
| Tax Plan | Taxation is simply glorified theft on an organized level. Recks' tax plan will first simplify the tax code while reducing bracket rates and will work down to a 10% flat tax, collected by the states. |
| Debt | We must pass both a Balanced Budget Amendment and a Line-Item Veto Amendment to the Constitution. We must then reform unfunded liabilities. Then, we must make discretionary cuts to all departments, paring away hurtful bureaucracy and government spending. |
| Social Security | Social Security is a defective Ponzi scheme. Recks' plan would not impact current beneficiaries but it would allow all other contributors to receive their money back with interest. More tax-free savings plans will be introduced, and a slim insurance-based safety net will remain. |
| Big Banks | The problem with big banks is the Federal Reserve that destabilizes our national economy and favors special interests over average Americans. As President, he would end the Fed. |
| Programs to Cut | Recks endorses an "all-of-the-above" spending cut strategy. He would consolidate agencies and enhance their efficacy, specifically eliminating the Departments of Commerce, Education, Energy, Interior, Health and Human Services, Housing and Urban Development, Labor, and Transportation. |
| Minimum Wage | A federal minimum wage is rife with confusing conversions that hurt everyday Americans. By allowing states to opt out of the federal standards, Recks would provide a boost to employment and increase incomes nationally. |
| Unemployment | Besides the stimulus caused by his tax cuts, Recks would provide incentives to hire the unemployed and incentives for the unemployed to find meaningful employment. |
| Unions | Unions must abide by the principle of voluntary association. The balance that Recks supports is national recognition of right-to-work laws. |
| Farm Subsidies | Current farm subsidies provide perverse incentives, go to multi-millionaire farms that use them to drive family farms out of business, hurt consumers and taxpayers, and should be reconsidered and reevaluated. |
| Free Trade | Recks is an ardent supporter of true free trade (elimination of tariffs and quotas) but is opposed to labor and product regulations often hidden away in treaties like TPP. |
| Energy Independence | America has the resources to become energy independent, it must simply pursue an "all-of-the-above" strategy that includes oil, coal, natural gas alongside solar, wind and nuclear. |
| Healthcare | Fixing healthcare means getting the government out of the way. We must deregulate medical accreditation, new medical treatments, health insurance markets. Recks also supports tax credits and vouchers for health insurance. |
| Greenhouse Gas Tax | This is hyper-destructive (taxing nearly any form of commerce) and also divorces property rights from usage rights, leading to a potential slippery slope in the future. |
| Foreign Affairs | |
| Illegal Immigration | We must liberalize our immigration system to be closer to that which our Founders embraced. Non-violent undocumented workers should have the opportunity to gain legal status by paying a fine and all back-taxes and getting to the back of the line. |
| Military Spending | The United States spends too much on spending. Recks would reduce spending without impacting the efficiency of the military largely by devolving power to the states and National Guard. |
| Syria | Any direct American intervention would only fuel jihadist activity and aid the Sharia Caliphate. Instead, we must organize a coalition of Arab nations to oust the jihadists in Syria and support the legitimate government. |
| Refugees | While security is vital, we must be willing to accept the downtrodden who are seeking to better their lives. Recks is especially open to admitting Arab Christians, moderates and those with advanced degrees. |
| Domestic Terrorism | Preventing terrorism doesn't have to mean abandoning civil liberties, it means providing productive, meaningful opportunities and targeting specific cells instead of the entire population. |
| Iran Nuclear Deal | The deal is better than the alternative of an unchecked Iranian government. Recks is ready and willing to ensure that the Iranians keep their side of the agreement. |
| Cyber attacks | National security, which now means technology security, is of extreme importance and should be handled by private enterprise solutions that keep Americans and our men and women in uniform safe. |
| Cuba | A true Libertarian recognizes that diplomacy and trade are the two most effective ways to spread peace and prosperity. The United States will have more positive influence over Cuba as a result of President Walker's plans to lift the failed embargo. |
| Israel and Palestine | The United States must continue to work closely with Israel, but must offer the nation two options: either grant moderate Palestinians rights as Israeli citizens or continue to move towards a viable two-state solution. |
| Foreign Aid | The United States is not the world's donor. Recks opposes giving any military aid that only serves to create warfare states armed around the world. He also calls for an end to enriching third-world despots via foreign aid. |
| Al-Qaeda and Sharia Caliphate | The United States must take away the raison d'etre of radical terrorist organizations by stopping its decades-long intervention in the Middle East. Then, it must enable moderate Muslim forces to destroy the insurgencies and prevent future crises. |
| Russia | Recks would meet personally with Putin to establish clear limitations: he must respect NATO member states, he must respect popular sovereignty, and he must respect the rights of all Russians, including the LGBT community. Recks also warns against saber-rattling that may provoke a Russian backlash. |
| Muslim Immigration | Excluding Muslims from the United States will only fuel anti-American sentiments in the Middle East. It is also a rejection of the principles upon which the United States was founded. This does not mean to throw caution to the wind, however. |