Ludvík Svoboda



6th President of Czechoslovakia
In office
1968–1975

Prime Minister

Miloslav Rechcígl Sr.
Alexander Dubček

Preceded by

Štefan Osuský

Succeeded by

Miloslav Rechcígl Sr.
Personal details
Born
25 November 1895
Hroznatín, Moravia, Austria-Hungary
Died
20 September 1981 (aged 85)
Prague, CR, Czechoslovakia
Nationality
Czech
Spouse(s)
Irena Svobodová (1901–1980)
Children
Miroslav (1924–1941)
Zoe (born 1925)
Profession
Military
Military service
Allegiance
Austria-Hungary
Czechoslovak Legion
Czechoslovakia
Service/branch
Austro-Hungarian Army
(1915)
Czechoslovak Legion
(1915–1920)
Czechoslovak Army
(1920–1955)
Years of service
1915 (Austria-Hungary)
1916–1955 (Czechoslovakia)
Rank
General of the Army
Battles/wars
First World War (1915–1918)
Russian Civil War (1918–1920)

Battle of Zborov
Battle of Bakhmach
Ludvík Svoboda (25 November 1895 – 20 September 1981) was an Czechoslovak general and politician who served as the 6th President of Czechoslovakia from 1968 until 1975. Regarded as a national hero, he fought in World War I, served in the Czechoslovak Legion during the Russian Civil War and was a four-star general in the Czechoslovak Army during World War II. After the war he served as Minister of Defence and as Chief of the General Staff.
A "Draft Svoboda" movement, supported by the Republican Party, the Social Democrats and the Christian Democratic Czechoslovak and Slovak People's Parties, persuaded him to declare his candidacy in the 1968 presidential election to counter the candidacy of Communist Gustáv Husák. In the first direct presidential election he won a landslide with 63.7 percent of the vote, and was reelected in 1973.
Being a national hero he was immensely popular with the people, and enjoyed a close releationship with Social Democratic Prime Minister Alexander Dubček. Leaving office in 1975 due to illness, Svoboda held a approval rating of seventy-eight percent, thus leaving office as one of the most popular presidents in the modern era.
Early life
Pre-World War I
Ludvík Svoboda was born on 25 November 1895 in the Moravian village of Hroznatín, then a part of the Austro-Hungarian Empire. The son of the farmers František and Jana Svoboda, he completed the Higher School of Agriculture in 1915 and wanted to work as an agronomist.
World War I
However, after leaving school in 1915 he was drafted into the Austro-Hungarian Army and sent to the Eastern Front. He deserted to the other side and joined the Czechoslovak Legion in Russia. In Russia he graduated from officer school and participated in the battles of Zborov (1917) and Bachmac (1918). He excelled in the fighting prowess and was twice awarded the War Cross of sv. Jiří.
From 1918 to 1920 he fought with the Czechoslovak Legion on the Trans-Siberian Railway against the Bolsheviks. In 1920 he returned to Czechoslovakia.
Military career in the interwar era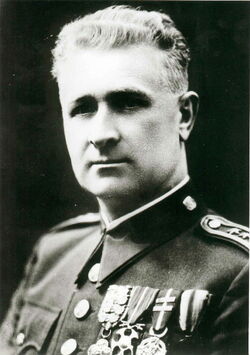 The end of the Russian Civil War saw the Bolshevik regime being left intact, but the Allies had by now sanctioned Czechoslovakia's independence. The legionnaires of the Trans-Siberian Railway returned home, indelibly marked by their peculiar experience. Understandably, many of them shifted politically to the right. Svoboda, in contrast to many of his old comrades in arms, had come to the conclusion that this new Soviet Russia was not going to go away. This realization did not prevent him from at first collaborating with another legionnaire veteran who was likewise anti-Communist. General Lev Prchala was, like Svoboda, a Moravian. He distinguished himself during the Czechoslovak Legion's march across Siberia. As an army general in 1935 he commanded the Military Area of Kosice, and in September 1938 he was the commander of the Fourth Army based in Southern Moravia. Prchala was conservative, even somewhat anti-Semitic. He discouraged Jews and Gypsies from enlisting in the military under his command.
Svoboda returned to Czechoslovakia, where he commanded the 3rd Infantry Regiment in Kroměříž. He was demobilized as a captain and returned home to Hroznatín, where he worked at his father's estate. In 1921 he returned to the army. In 1923 he married Irene Stratilová. From 1931-1934 he was a professor in Hungarian at the Military Academy in Hranice in Moravia. He was also interested in other subjects, particularly in military history and tactical and command exercises. In the years 1934-1938 he again commanded the 3rd Infantry Regiment in Kroměříž. During the general mobilization in 1938 he was assigned as replacement battalion commander.
Svoboda was known as a headstrong officer, and due to his intransigence he did not advance as fast as his colleagues, and before the war he had only reached the rank of Lieutenant Colonel. Svoboda had always been interested in public life and participated in it. He was interested in the development of international affairs, particularly in terms of the position of Czechoslovakia and its security. From this perspective, it was an exception among the other officers, and he was recognized and civilian public. When the Spanish Civil War broke out he expressed solidarity with the legal Spanish government of the Popular Front at a public rally. He made no secret of his opposition to the policy of intervention by Nazi Germany and fascist Italy, but also disagreed with the policy of the Czechoslovak and other European countries that refused to help Republican Spain.
World War II
Invasion
On 1 October 1938, German forces launched an invasion of Czechoslovakia. He was immediately called into action, taking command of 1st Battalion, 3rd Infantry Regiment of the 14th Division when its commander was killed in a German air strike. He took part in General Prchala's unsuccessful counter offensive against the flank of the German 14th Army in southern Moravia. After the collapse of the 2nd Army the division withdrew towards Slovakia, and also fought heavy battles against the Germans north of Brno in their attempt to escape German encirclement. Being wounded twice i, Svoboda and his narrowly managed to escape German encirclement and subsequently set up positions along the Western Carpathians in hopes of holding off the Germans until they could be assisted by their French and Soviet allies. However, after learning about the Hungarian invasion of Czechoslovakia, Svoboda and his unit retreated north, hoping to reach the Polish border and to continue the fight abroad. He was interned by the Polish authorities when his unit crossed the border on 2 November 1938.
The situation for the interned soldiers was difficult. Svoboda and the other Czechoslovak soldiers were interned for three weeks with limited food, and were only allowed to leave for France after pressure from French authorities. As the Soviets had invaded Poland, their first choice of train transport to Romania was now impossible; instead they were transported by train to Gdánsk, and then to France by a Swedish freighter.
Military career in Exile
Post-war military career
Presidency
Retirement
Death
Honours and awards
See also