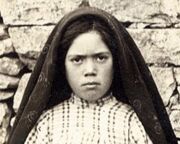 Lucia Jesus dos Santos was one of the three shepherd children who claimed to have witnessed apparitions of the Virgin Mary at Fatima in 1917. Like the other two, she died in the Spanish 'Flu Epidemic of 1918, though it was thought for a while that she might pull through. Had she survived, she would have been able to clear up the rumour and speculation surrounding the Three Secrets of Fatima, and may have gone on to become a nun, but this was prevented by her tragically early death.
Ad blocker interference detected!
Wikia is a free-to-use site that makes money from advertising. We have a modified experience for viewers using ad blockers

Wikia is not accessible if you've made further modifications. Remove the custom ad blocker rule(s) and the page will load as expected.