State of Louisiana
— State of the United States of America —
Timeline: Alternity
OTL equivalent: Louisiana (minus the Florida Parishes)

Flag of Louisiana
Seal

Location of Louisiana in the United States

Capital
Alexandria
Largest city
Manheim
Other cities
Shreveport, Metairie, New Orleans, Lafayette
Language
English
Ethnic groups
  main
 
White (non-Hispanic), Black
  others
White (Hispanic),
Native American, Asian
Demonym
Louisianan
Government
Representative
democracy
  legislature
State Legislature
Governor
Murphy J. Foster, Jr. (R)
Area
46,755 sq. mi 
Population
4,514,000 
Admission
April 1812
Currency
USD
Time zone
Central
Abbreviations
LA
Louisiana (LA) is a state located on the Gulf Coast Region of the southern United States that shares borders with Mississippi and West Florida to the east, Texas to the west, and Arkansas to the north. Admitted to the Union as the 19th state on April 30, 1812, the state is ripe with history, having changed hands multiple times before the American purchase of the region in 1803 (it was originally claimed by the French, who sold it to Spain in 1762, and then purchased it back in 1800). Louisiana seceded from the Union in 1861, shortly before the beginning of the American Civil War and eventually joined the Confederacy, but within a year of war, New Orleans fell to Union forces on April 25, 1862, as part of the Union's Mississippi River Campaign.
The Great New Orleans Hurricane devastated that city in September 1900, killing over 6,000 and slowing development to a near-crawl, forcing many of the survivors north to the smaller city of Manheim (established in Claiborne Parish in 1880), which would rapidly grow to become the largest city in the state by 1925. New Orleans survived, but never truly recovered from the storm, and suffered the effects of three further hurricanes between 1915 and 1969; its current population of roughly 95,000 has been described as "...some of the hardiest people in the nation..." for their endurance in the face of disaster, leading to New Orleans' nickname of "The Survivor City".
Parishes
Unlike a majority of US states (which are subdivided into counties), Louisiana is subdivided into 40 parishes – an influence from the 18th-century French and Spanish colonial subdivisions of the region (based on ecclesiastical parishes, as both nations were Roman Catholic). Following the devastating 1900 and 1915 hurricanes, most of the parishes in the Mississippi Delta region were reorganized and subsequently absorbed into the overlapping Delta Parish (encompassing a majority of the Delta itself).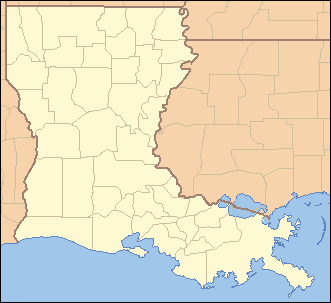 Ad blocker interference detected!
Wikia is a free-to-use site that makes money from advertising. We have a modified experience for viewers using ad blockers

Wikia is not accessible if you've made further modifications. Remove the custom ad blocker rule(s) and the page will load as expected.