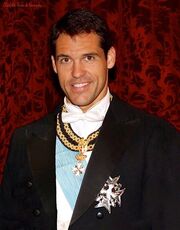 Louis is the current King of France (as Louis XX) and Spain (as Louis II, Spanish: Luis II).
He was born on 25 April 1974 in the Palace of Versailles, Paris, son of Prince Alphonse of France and Spain, who became King Alphonse III & XIV of France and Spain the following year, and his wife (later divorced) Dona Maria del Carmen Martinez-Bordiu y Franco, a maternal granddaughter of the prime minister of Spain, Francisco Franco.
He became King of France and Spain upon the death of his father on 30 January 1989. As he was then only fifteen years old, his first cousin once removed, Prince John Charles of France and Spain, became regent. King Louis was declared an adult on his 18th birthday, on 25 April 1992, and the regent resigned.
He married on 5 November 2004 to María Margarita Vargas Santaella (Queen Mary Margaret) (born 1983), daughter of Victor José Vargas Irasquin, created 1st Duke Vargas upon his daughter's marriage, and his wife Carmen Leonor Santaella Telleria. The couple have the following issue:
Eugenie (born 2007)
Louis (born twin 2010), Crown Prince
Alphonse (born twin 2010)
Ad blocker interference detected!
Wikia is a free-to-use site that makes money from advertising. We have a modified experience for viewers using ad blockers

Wikia is not accessible if you've made further modifications. Remove the custom ad blocker rule(s) and the page will load as expected.