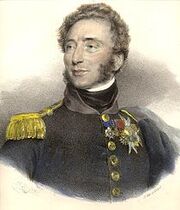 Louis XIIX (Louis Anthony, French: Louis Antoine) was King of France.
He was born on 6 August 1775 in the Palace of Versailles, son of Prince Charles of France (who later became King Charles X of France) and Princess Mary Theresa of Savoy.
He became King of France upon the death of his father on 6 November 1836, and reigned for the rest of his life. He died on 3 June 1844 in the Palace of Versailles.
He married on 10 June 1799 to his first cousin Princess Mary Theresa of France (1778-1851), daughter of King Louis XVI of France and Archduchess Mary Antonia of Austria, having no issue.
He was succeeded on the French throne by his nephew Henry V.