Ad blocker interference detected!
Wikia is a free-to-use site that makes money from advertising. We have a modified experience for viewers using ad blockers

Wikia is not accessible if you've made further modifications. Remove the custom ad blocker rule(s) and the page will load as expected.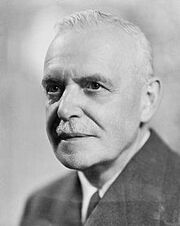 Louis St. Laurent
was the Prime Minister of
Canada (HSE)
during the
Third World War (HSE)
. After the end of the war, St. Laurent represented Canada at the
Sao Paulo Peace Accords (HSE)
, in which he was forced to cede the Yukon and British Columbia to the
Soviet Union (HSE)
.