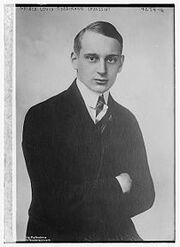 Louis Ferdinand I (Louis Ferdinand Victor Edward Albert Michael Hubert, German: Ludwig Ferdinand Viktor Eduard Michael Hubertus) was German Emperor and King of Prussia.
He was born 9 November 1907 in Potsdam, Brandenburg, German Empire, and died 26 September 1994 in the Marmorpalais by Potsdam. He was the second child and second son of Emperor William III and Empress Cecilia, née Duchess of Mecklenburg-Schwerin.
He became German Emperor and King of Prussia upon the death of his father, 20 July 1951.
He married on 4 May 1938 in Potsdam to Grand Duchess Kira Kirillovna of Russia (1909-1967), a daughter of Emperor Cyril I of Russia and his wife, Empress Victoria, née Princess of Great Britain and Ireland.
Emperor Louis Ferdinand I and Empress Kira had the following issue:
Frederick William (born 1939), who is the present German Emperor and King of Prussia as Frederick William V
Michael (born 1940)
Mary Cecilia (born 1942)
Kira (1943-2004)
Louis Ferdinand (1944-1977)
Christian Sigismund (born 1946)
Xenia (1949-1992)