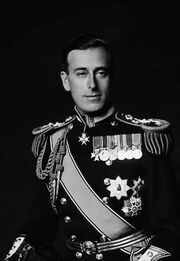 Lord Louis Mountbatten, First Earl Mountbatten of Burma, (25th June 1900 - 2nd April 1985) was the father of the current Queen Consort, Amanda. Aside from his governorship of Burma and probable involvement in a planned British coup against the Wilson government, he is chiefly known as the "Kingmaker", since he persuaded the Queen to abdicate in 1983 in favour of King Charles III.
Ad blocker interference detected!
Wikia is a free-to-use site that makes money from advertising. We have a modified experience for viewers using ad blockers

Wikia is not accessible if you've made further modifications. Remove the custom ad blocker rule(s) and the page will load as expected.