Lord Howe Island is a small island in the Tasman Sea 600 km (370 mi) east of the Australian mainland.
History
Lord Howe Island was discovered on 17 February 1788, by HMS Supply, commanded by Lieutenant Henry Lidgbird Ball, RN, who was on his way from Botany Bay to Norfolk Island with convicts to start a penal settlement there. On his return journey on 13 March 1788, he sent a party ashore on the island. It was uninhabited, and it seems that it had not been known to any of the Polynesian peoples of the South Pacific. Whilst Mount Lidgbird on the island and the nearby Balls Pyramid are named after Ball, the island itself was named after Richard Howe, 1st Earl Howe, who was First Lord of the Admiralty.
Until the construction of Lord Howe Island Airport in 1974, the only way to reach the island was by sea or by flying boat from Rose Bay in Sydney, landing on the lagoon surrounded by the coral reef.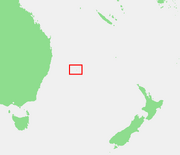 After Doomsday some boats sought temporary refuge on Lord Howe Island after their port of call Sydney, was destroyed.
Government
Lord Howe Island is part of New South Wales, Australia.
Ad blocker interference detected!
Wikia is a free-to-use site that makes money from advertising. We have a modified experience for viewers using ad blockers

Wikia is not accessible if you've made further modifications. Remove the custom ad blocker rule(s) and the page will load as expected.