London
London/Londres
Timeline: Fascist Britain


Flag of London

Country
UFSS
State
South England
Language
  official
 
English
  others
French
Religion
  main
 
Protestant
  others
Catholic, Jewish, others
Ethnic groups
  main
 
English
  others
French, Jewish, others
Founded
C. 43 AD
Mayor
Boris Johnson
Population
6,000,000  
London (also known as Londres) is a city located in the south of South England, and is the state capital. It was the capital of the United Kingdom until 1942, and briefly capital of the United Republic.
History
Pre-1930's
London was founded by the Romans. Since then, it has seen many rulers. It has often been capital of England. It was the largest city in the world from 1831-1925, and centre of the British Empire.
1930's
London was transformed during the rule of Mosley from a declining city to one of great cultural significance. Great architecture was built and planned. Plans were drawn up for the People's Hall, a great palace designed to be both a seat for parliament and a residence for the Monarchy. These plans were put on hold with the onset of the Second World War.
World War II
London suffered heavily following bombing raids during 1939, but the air force was later able to gain control of the skies. 
Following the Battle of Britain, Britain was invaded and the Battle of London commenced.  Large areas of London were bombed nearly to rubble, and historical buildings were damaged. The city was eventually captured by the French, leaving the emergency government to surrender later in Glasgow.
French Era
London was given, with the rest of South England, to France following the Osborne Conference. The city experienced an economical decline under the communist regime, in contrast to conditions in mainland France. French architecture and culture was popular during this era, but quickly became unpopular during the 1980's during to ongoing anti-French protests.
Civil War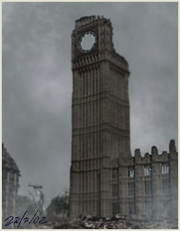 After being freed and reunited, the United Republic chose London as capital.  During the British Civil War, however, the city yet again became a battleground until being re-incorporated into the French Union.
Contemporary Era
Following the Civil War, a greater period of francisation has begun, the first move being that all cars drive on the right. Some changes have also been made to language in the city, with French being planned to be the official language. Reconstruction of historical buildings has been completed.
Landmarks
Buckingham Palace, an art gallery.
Big Ben and the Houses of Parliament, seat of the local government. Partially destroyed in the Civil War, but reconstruction finished in 2005.
Liberty Square, once called Trafalgar Square. The statue of Nelson was replaced with Marianne, and thus is the site of many protests.