Lithuanian Royal Family (Central Victory)
Talk

0
Share
Ad blocker interference detected!
Wikia is a free-to-use site that makes money from advertising. We have a modified experience for viewers using ad blockers

Wikia is not accessible if you've made further modifications. Remove the custom ad blocker rule(s) and the page will load as expected.
Lithuanian Royal Family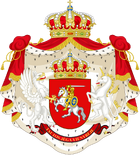 The Lithuanian Royal Family consists of the present king, the queen consort and their children. The Lithuanian royal family belongs to the House of Urach, which is a branch of the House of Württemberg. The membership of the Royal Family is defined by royal decree and consists of: the King of Lithuania, the monarch's spouse, and the heir to the Lithuanian throne.
Current members of the Royal Family
Extended family
HRH Princess Amelie von Einsiedel and Curt-Hildebrand von Einsiedel (The King's sister and brother-in-law)

Alexander von Einsiedel
Elisabeth Helene von Einsiedel
Igiga von Einsiedel
Sophie von Einsiedel
Therese von Einsiedel
Victoria von Einsiedel
Valerie von Einsiedel

HRH The Count and Countess of Klaipėda (The King's brother and sister-in-law)

HH Prince Vilhelmas
HH Prince Maksimilijonas

HRH Prince Vilhelmas Albertas of Lithuania and Karen von Brauchitsch (The King's brother and sister-in-law)

HH Prince Karolis Pilypas
HH Princess Aleksandra-Charlotte
HH Princess Louise Antonia Gabriele Elisabeth Maria
See also