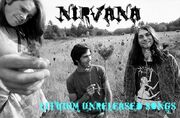 Lithium:Unreleased Songs 1987-1997
Lithium is the title of a compilation album featuring unreleased Nirvana recordings. It was released in 2005 eight years after having broken up in 1997. It features primarily recordings beginning from the band's inceptions to the songs that were left out of Curmudgeon released in 1992, which had long proved a source of interest of fans. The second disc is comprises mostly of recordings made for a planned 4th album to be released in 1998 but failed to reach release due to the band's breakup in mid-1997. A large part of the second disc was written by drummer Chad Channing.
Recording
The album features a variety of recordings taken from various studios in Seattle, Washington from 1987-1997.
Track Listing
Disc 1
1.Lithium
2.Silver
3.Son Of A Gun
4.In Bloom
5.Verse Chorus Verse
6.Sappy
7.Mexican Seafood
8.Stain
9.Heart Shaped Box
10.Rape Me
11.Dumb
12.Polly (New Wave)
Disc 2
1.Spank Thru
2.Something With Little Merit
3.The Way The Lillies Grow
4.Harvest Time
5.Paradise Regained
6.Much Thirst
7.There's No Other Way (Blur Cover)
8.Jump
9.That Glorious Summer Old
10.How Ever Frequently
Personnel
Kurt Cobain-Vocals,Guitar
Krist Novoselic-Bass Guitar
Chad Channing-Drums,Backing Vocals,
Ad blocker interference detected!
Wikia is a free-to-use site that makes money from advertising. We have a modified experience for viewers using ad blockers

Wikia is not accessible if you've made further modifications. Remove the custom ad blocker rule(s) and the page will load as expected.