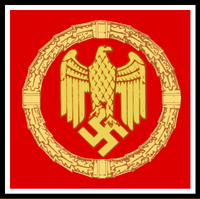 Since its foundation on the 5 May, 1941,
South Germany
(officially known as the
State of Germany
), the President of Germany has held the position of head of state, with a large number of legislative, executive and representative duties and powers.
The office was first formed in the aftermath of the Great War, when the German Emperor Wilhelm II fled, the position of the head of state going to Friedrich Ebert as President of the Weimar republic. After the death of Paul von Hindenburg in 1934, the position of President was amalgamated with that of the chancellor by Adolf Hitler, who would later become known as Führer. After his assassination in 1937, the positions remained consolidated until Hermann Göring passed the 1945 constitution (also known as the Nuremberg constitution), in which the offices were finally made separate again.
The incumbent President of Germany is Günter Deckert, who was elected by the Reichstag on 14 July, 1994.
List of Presidents
† - Died in Office
‡ - Assassinated
↓ - Resigned
| | | | | | | |
| --- | --- | --- | --- | --- | --- | --- |
| # | Portrait | Name | Took Office | Left Office | Party | Deputy President |
| 1 | | Hermann Göring | 5 May, 1941 | 12 August, 1949† | NSDAP | Alfred Rosenberg |
| - | | Alfred Rosenberg | 12 August, 1949 | 17 August, 1949 | NSDAP | Vacant |
| 2 | | Martin Bormann | 17 August, 1949 | 22 April, 1962↓ | NSDAP | Otto Ernst Remer |
| 3 | | Otto Ernst Remer | 22 April, 1962 | 3 November, 1983‡ | NSDAP | Fritz Rössler |
| - | | Friedhelm Busse | 3 November, 1983 | 16 November, 1983 | NSDAP | Vacant |
| 4 | | Wilhelm Stuckart | 16 November, 1983 | 26 March, 1987† | NSDAP | Friedhelm Busse |
| 5 | | Friedhelm Busse | 26 March, 1987 | 14 July, 1994↓ | NSDAP | Günter Deckert |
| 6 | | Günter Deckert | 14 July, 1994 | Incumbent | NSDAP | Karl Richter |