List of Presidents of Peru (Central World)
Talk

0
Share
Ad blocker interference detected!
Wikia is a free-to-use site that makes money from advertising. We have a modified experience for viewers using ad blockers

Wikia is not accessible if you've made further modifications. Remove the custom ad blocker rule(s) and the page will load as expected.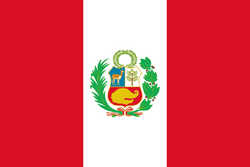 List of Presidents of Peru in Central World. The President of the Republic (Presidente de la República) is the head of state of Peru and represents the republic in official international matters.
The current president of Peru is Ollanta Humala, elected in 2009.
Presidents
Picture
President
Period
Party
Notes
Augusto B. Leguía y Salcedo
September 24, 1908 - September 24, 1912
Civil Party
Constitutional President
Guillermo Billinghurst
September 24, 1912 - February 4, 1914
Democrat Party
Constitutional President
Óscar Benavides
February 4, 1914 - August 18, 1915
Military
Coup d'état
José Pardo y Barreda
August 18, 1915 - July 4, 1919
Civil Party
Constitutional President
Augusto B. Leguía y Salcedo
July 4, 1919 - 1930
Reformist Democratic Party
Constitutional President
Coup d'état
Tacna War
Civil-Military Junta
1930 - 1934
End of the Tacna War
Luis Antonio Eguiguren
1934 - 1937
Socialdemocratic Party
Civil War
Luis Miguel Sánchez Cerro
1937 - 1943
Revolutionary Union
Leader during the Peruvian Civil War
Luis A. Flores
1943 - October 29, 1948
Revolutionary Union
Deposed by a Military Coup
Manuel A. Odría
1948 - 1956
National Union
Manuel Prado Ugarteche
1956 - 1962
Democratic Movement
Víctor Raúl Haya de la Torre
1962 - 1968
American Revolutionary Popular Alliance
Gral. Juan Velasco Alvarado
1968 - 1975
Military
Gral. Francisco Morales Bermúdez
1975 - 1982
Military
Forced to resign by international pressure.
Provisional Junta
1982 - 1983
Fernando Belaúnde
1983 - 1988
Popular Action Party
1988 - 1993
1993 - 1998
1998 - 2003
Notes