List of Presidents of Finland (1983: Doomday)
Talk

0
Share
Ad blocker interference detected!
Wikia is a free-to-use site that makes money from advertising. We have a modified experience for viewers using ad blockers

Wikia is not accessible if you've made further modifications. Remove the custom ad blocker rule(s) and the page will load as expected.

This 1983: Doomsday page is a Proposal.

It has not been ratified and is therefore not yet a part of the 1983: Doomsday Timeline. You are welcome to correct errors and/or comment at the Talk Page. If you add this label to an article, please do not forget to make mention of it on the main Discussion page for the Timeline.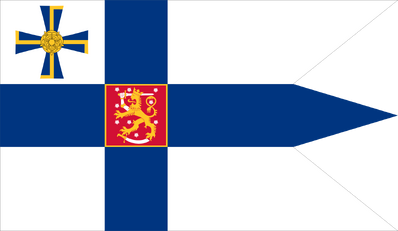 The
President of the Republic of Finland
is the Head of State of
Finland
, one of many Heads of State in the Nordic Union.
In addition to being the President of Finland, the President is also the President of the Åland Islands, which are in a political union with Finland by sharing the same head of state.
Requirements and Responsibilities
Elections
In order to be eligible to run for the Presidency, a candidate must either be nominated by a registered political party which maintains at least one seat in the Parliament or by nomination of 20,000 registered voters.
Between 1918 and 1984 (when the adoption of the Uusi Konstituutio), the President of Finland was elected by an electoral college made up of electors who were voted upon by the general populace. This was removed as a result of the Uusi Konstituutio; the Presidential elections were then conducted by a popular vote, starting with the 1988 elections of Kalevi Sorsa.
Elections take place in up to two rounds; if no candidate can secure a majority of votes in the first round, the top two candidates are then taken into the second round and a mere plurality is needed to become the President of Finland. Inauguration is always on March 1 after the elections that take place in late January and early February.
Powers
List
#
Portrait
Name
Elected
Took Office
Left Office
From party
Birth and death
1
Kaarlo Juho Ståhlberg
1919
25 July 1919
2 March 1925
National Progressive Party
b. 28 January 1865, Suomussalmi
d. 22 September 1952, Helsinki
Speaker of parliament in 1914–1917. Elected as president by the Parliament of Finland in 1919.
2
Lauri Kristian Relander
1925
2 March 1925
2 March 1931
Agrarian League
b. 31 May 1883, Kurkijoki
d. 9 February 1942, Helsinki
Speaker of parliament in 1919–1920. Governor of Viipuri Province in 1920–1925. Elected as president by electoral college in 1925.
3
Pehr Evind Svinhufvud
1931
2 March 1931
1 March 1937
National Coalition Party (Kok.)
b. 15 December 1861, Sääksmäki
d. 29 February 1944, Luumäki
Speaker of parliament in 1907–1912. Interim head of state of Finland 1918. Prime Minister in 1917–1918 and 1930–1931. Elected as president by electoral college in 1931.
4
Kyösti Kallio
1937
1 March 1937
19 December 1940
(died)
Agrarian League
b. 10 April 1873, Ylivieska
d. 19 December 1940, Helsinki
Speaker of parliament in 1920–1921, 1922, 1924–1925, 1929 and 1930–1936. Prime Minister in 1922–1924, 1925–1926, 1929–1930 and 1936–1937. Elected as president by electoral college in 1937. Resigned in 1940 because of poor health, whereupon Risto Ryti became acting president. Died in office.
5
Risto Ryti
1940
1943
(acting for Kallio from 27 Nov. 1940)
19 December 1940
1 August 1944
(resigned)
National Progressive Party
b. 3 February 1889, Huittinen
d. 25 October 1956, Helsinki
Prime Minister in 1939–1940 and during his presidential term 1940–1941. Elected as president by electoral college in 1940, and re-elected in 1943. Resigned in 1944.
6
Carl Gustaf Emil Mannerheim
1944
4 August 1944
4 March 1946
(resigned)
Commander-in-Chief of the Defence Forces
b. 4 June 1867, Askainen
d. 27 January 1951, Lausanne, Switzerland
Interim head of state of Finland 1918–1919. The only Marshal of Finland. Elected as president in 1944 by the Parliament. Resigned in 1946.
7
Juho Kusti Paasikivi
1946
1950
11 March 1946
1 March 1956
National Coalition Party (Kok.)
b. 27 November 1870, Hämeenkoski
d. 14 December 1956, Helsinki
Prime minister in 1918 and 1944–1946. Elected as president by the Parliament in 1946 and re-elected by electoral college in 1950.
8
Urho Kekkonen
1956
1962
1968
1978
1 March 1956
27 January 1982
Agrarian League (1956-1965)
Centre Party (1965-1982)
b. 3 September 1900, Pielavesi
d. 31 August 1986, Helsinki
Speaker of parliament in 1948–1950. Prime Minister in 1950–1953 and 1954–1956. Elected as president by electoral college in 1956 and re-elected in 1962, 1968 and 1978. In 1973, the term that started in 1968 was extended by four years by means of an emergency law. Resigned in 1981 owing to poor health, whereupon Prime Minister Mauno Koivisto became acting president. Served in Finnish Civil War.
9
Mauno Koivisto
1982
(acting for Kekkonen from 11 Sep. 1981)
27 January 1982
1 March 1988
Social Democratic Party (SDP)
b. 25 November 1923, Turku
Prime Minister in 1968–1970 and 1979–1982. Elected as president by electoral college in 1982. President during Doomsday. The first president born in independent Finland. Served in the armed forces during World War II.
10
Kalevi Sorsa
Finnish presidential election, 1988
1 March 1988
1 March 1994
Social Democratic Party (SDP)
b. 21 December 1930, Keuruu
DETAILS
10
Sauli Niinistö
Finnish presidential election, 1994
Finnish presidential election, 2000
1 March 1994
1 March 2006
National Coalition Party (Kok.)
b. 24 August 1948, Salo
DETAILS
11
Esko Aho
Finnish presidential election, 2006
1 March 2006
1 March 2012
Centre Party
b. 20 May 1954, Veteli
DETAILS
12
Martti Ahtisaari
Finnish presidential election, 2012
1 March 2012
Incumbent
Social Democratic Party (SDP)
b. 23 June 1937, Viipuri
DETAILS