List of Nations (The Long Life of Lenin)
Talk

0
Share
Ad blocker interference detected!
Wikia is a free-to-use site that makes money from advertising. We have a modified experience for viewers using ad blockers

Wikia is not accessible if you've made further modifications. Remove the custom ad blocker rule(s) and the page will load as expected.
List of Nations
A list of all current and former sovereign states in the Long Life of Lenin (LLL) timeline. Nations categorized by continent and time period. Nations that existed before 1918 are not listed, you can find those on Wikipedia.
Europe
Current-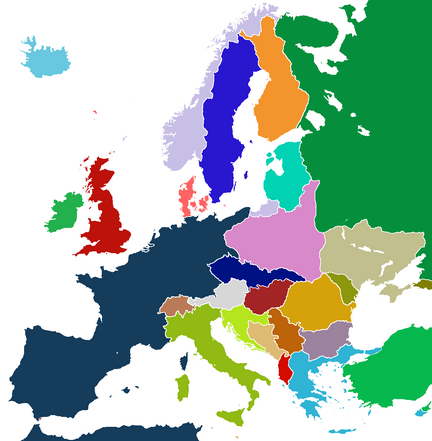 Albania
Andorra
Austria
Baltica
Bosnia
Bulgaria
Croatia
Czechoslovakia
Danzig
Denmark
Finland
Great Britain
Greece
Hungary
Iceland
Ireland
Italy
Moldavia
Norway
O.E.U. (Union de l'Europe Occidentale)
Poland
Romania
Russia
San Marino
Serbia
Sweden
Switzerland
Ukraine
Vatican City
Until 1999-
Estonia
Latvia
Lithuania
Until 1994-
Macedonia
Until 1991-
Yugoslavia
Until 1984-
Bavaria
Belgium
France
Hanover
Luxembourg
Portugal
Prussia
Saxony
Spain
U.S.S.R. (Union of Soviet Socialist Republics )
Westphalia
Württemburg
Until 1947-
Republic of Istanbul
Until 1946-
Germany
Turkey
Arabia and North Africa
Current-
Islamic Confederation
Israel
O.E.U. West Africa
Until 1984-
Spanish North Africa
Until 1946-
Emirates on Northeast Persian Gulf
Yemen
British Colonies (U.K.)
Central and Southern Africa
Angola
Ethiopia
Namibia
South Africa
Asia
Current-
Afghanistan
Bangladesh
Bhutan
Burma
India
Indochina
Japan
Mongolia
Pakistan
Republic of China
Republic of Korea
Until 2006-
Vietnam
Cambodia
Laos
Oceania
Australia
Brunei
United Federation of Micronesia (UFM)
Fiji
Indonesia
Papua new Guinea
Philippines
Marshal Islands
Malaysia
New Zealand
Samoa
Solomon Islands
Tonga
Tuvalu
Vanuatu
North America and Caribbean
Belize
Canada
Caribbean Federation
Costa Rica
Cuba
Dominican Republic
El Salvador
Haiti
Honduras
Jamaica
Mexico
Nicaragua
United States of America
Before 1995-
Antigua and Barbuda
The Bahamas
Barbados
Dominica
Grenada
St. Kitts and Nevis
St. Lucia
St. Vincent
Trinidad and Tobago
South America
Current-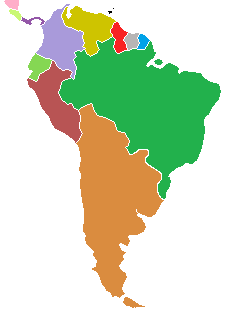 Brazil
Colombia
Ecuador
Falkland Islands (British Territory)
French Guiana (O.E.U. Territory)
Guyana
Peru
Republic of Patagonia (Patagonia)
Suriname
Venezuela
Before 1946-
Argentina
Bolivia
Chile
Paraguay
Uruguay