This is a list of nations in Prince of Prussia.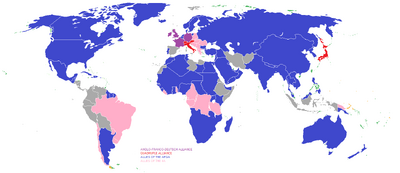 Africa
Union of South Africa
Egypt
British Colonies
French Colonies
Dutch Colonies
Belgian Colonies
Asia
Union of Soviet Socialist Republics
China
Japan
Philippines
India
Indochina
Korea
Indonesia
Manchukuo
Europe
United Kingdom of Great Britain and Ireland
Spain
Portugal
France
Belgium
Luxembourg
Denmark
Norway
Sweden
Prussia
USSR
Austria
Hungary
Czechoslovakia
Yugoslavia
Poland
Germany
Balkania
North America
United States of America
Canada
Mexico
Newfoundland
Cuba
Puerto Rico
Haiti
Dominican Republic
South America
Brazil
Argentina
Chile
Peru
Colombia
Panama
United Central American States
Costa Rica
Venezuela
Guyana
Ad blocker interference detected!
Wikia is a free-to-use site that makes money from advertising. We have a modified experience for viewers using ad blockers

Wikia is not accessible if you've made further modifications. Remove the custom ad blocker rule(s) and the page will load as expected.