Ad blocker interference detected!
Wikia is a free-to-use site that makes money from advertising. We have a modified experience for viewers using ad blockers

Wikia is not accessible if you've made further modifications. Remove the custom ad blocker rule(s) and the page will load as expected.
This is a comprehensive list of current nations of the Land of Empires timeline. The charts will display the name of the nation, the capital, any OTL nations or subdivisions that it encompasses, and the current flag of the nation. Nations with the asterisk (*) next to its name are either partially recognized or unrecognized nations and/or city-states (in the case of Hong Kong). The OTL nations/subdivisions with an asterisk (*) denote that they are also considered sovereign nations under the mother countries' commonwealth or realm. (An example would be Korea, which is both a part of the Imperial Japanese Association of States, and a full, sovereign member of the World Defense Federation.)
To see former nations, click this link here. 
Map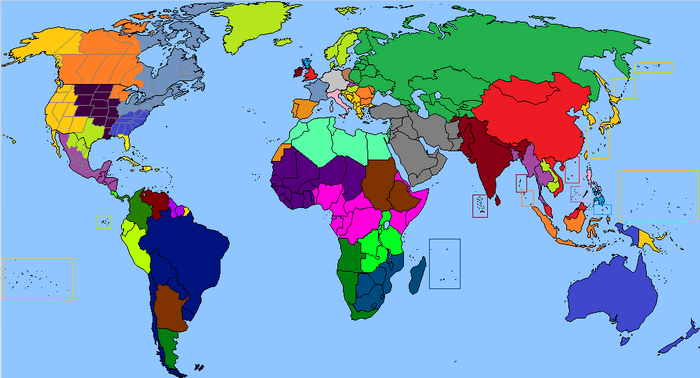 North and Central America
| Name | Capital(s) | OTL Nations (or subdivisions) | Flag |
| --- | --- | --- | --- |
| Republic of California | San Francisco | California, Washington, Oregon, Vancouver Island, Nevada, Baja California and Baja California Sur | |
| Republic of Quebec | Montreal | Quebec, Eastern Ontario, Nova Scotia, Newfoundland and Labrador, New Brunswick, Prince Edward Island, Eastern Nunavut, Maine, New Hampshire, Vermont, New York, New Jersey, Michigan, Illinois, Massachusetts, Rhode Island, Indiana, Ohio, Pennsylvania and Connecticut | |
| Kingdom of Canada | Victoria | British Columbia, Alberta, Northwest Territories, Western Nunavut, Western Ontario, Saskatchewan and Manitoba | |
| Duchy of Minnesota and Wisconsin | Minneapolis | Minnesota and Wisconsin | |
| Republic of Texas | Dallas | Texas, Chihuahua, Coahuila de Zaragoza, Nuevo Leon and Tamaulipas | |
| Republic of Florida | Tallahassee | Florida, Cuba, Bahamas, Jamaica and other Carribbean nations | |
| Federation of Japanese North American Territories | Tokyo and Los Angeles | Alaska, Yukon, Idaho, Utah, Arizona and New Mexico | |
| Second Mexican Republic | Mexico City | Guatemala, Belize, El Salvador, Honduras, Nicaragua and Mexico excluding Chihuahua, Coahuila de Zaragoza, Nuevo Leon, Tamaulipas, Baja California and Baja California Sur | |
| Republic of Panama and Costa Rica | Panama City | Panama and Costa Rica | |
| Plains Union | Topeka | Montana, Colorado, Wyoming, North Dakota, South Dakota, Nebraska, Kansas, Oklahoma, Iowa, Missouri, Arkansas and Louisiana | |
| Union of American States | Washington DC | Mississippi, Tennessee, Kentucky, Alabama, Georgia, South Carolina, North Carolina, West Virginia, Virginia, Delaware, Washington DC and Maryland | |
South America
| Name | Capital(s) | OTL Nations (or subdivisions) | Flag |
| --- | --- | --- | --- |
| Empire of Brazil | São Paulo | Brazil, Paraguay, Bolivia and Chile | |
| Republic of Patagonia | Río Gallegos | Southern Argentina  | |
| Kingdom of Patagonia | Viedma | North Argentina and Paraguay | |
| Andean Republic | Lima | Peru and Ecuador | |
| Republic of Colombia | Bogota | Colombia | |
| Republic of Venezuela | Caracas | Venezuela | |
| Federation of Guyana | Georgetown | Guyana, Suriname and Trinidad and Tobago | |
| Republic of Guiana | Cayenne | French Guiana | |
Europe
| Name | Capital(s) | OTL Nations (or subdivisions) | Flag |
| --- | --- | --- | --- |
| Republic of England | London | England and Wales | |
| Republic of Ireland | Dublin | Ireland and Northern Ireland | |
| Kingdom of Scotland | Glasgow | Scotland | |
| French Socialist Republic | Paris | France excluding Corsica and its Pacific territories | |
| Union of Iberia | Madrid | Spain, Andorra and Portugal | |
| Republic of Catalonia* | Barcelona | Catalonia | |
| Greater Basque Republic* | Bilbao | Basque Country, Navarre, and the French Northern Basque Country | |
| Empire of Germany | Berlin | Germany, Belgium, Netherlands*, Switzerland, Austria, Czech Republic and Luxembourg | |
| Republic of the Netherlands | Amsterdam | Netherlands | |
| Republic of Wallonia* | Namur | Belgian region of Wallonia | |
| Republic of Hungary | Budapest | Hungary | |
| Republic of Slovakia | Bratislava | Slovakia and Slovenia | |
| Empire of Italy | Rome | Italy and Corsica | |
| Socialist Republic of Yugoslavia | Belgrade | Croatia, Serbia, Montenegro, Macedonia, Greece, Bosnia-Herzegovina, Kosovo and Albania | |
| Scandinavian Union | Stockholm | Sweden, Norway, Denmark, Greenland and Iceland | |
| Greater Romanian Republic | Bucharest | Romania, Moldova and Bulgaria | |
| Republic of Poland | Danzig | Western Poland | |
| Empire of Russia | Moscow | Russia (excluding Sakhalin, Kurils, and Komandorskis), Estonia, Lithuania, Latvia, Ukraine, Belarus, Eastern Poland, Finland, Turkmenistan, Tajikistan, Kazakhstan, Uzbekistan, Kyrgyzstan, Azerbaijan and Georgia | |
Africa
| Name | Capital(s) | OTL Nations (or subdivisions) | Flag |
| --- | --- | --- | --- |
| North African Union | Tunis | Tunisia, Morocco, Algeria, Libya, Egypt, Israel and Lebanon | |
Middle East and Asia
| Name | Capital(s) | OTL Nations (or subdivisions) | Flag |
| --- | --- | --- | --- |
| Great Persian Caliphate | Tehran | Turkey, Cyprus, Crete, Syria, Jordan, Saudi Arabia, Bahrain, Yemen, Oman, Qatar, United Arab Emirates, Kuwait, Iraq, Iran, Afghanistan and Western Pakistan | |
| Great Indian Raj | New Delhi | Eastern Pakistan, Nepal, Maldives and India | |
| Republican Chinese Empire | Peking | China, Bhutan, Vietnam, Malaysia, Kalimantan, Brunei and Mongolia | |
| Republic of Korea | Seoul | North Korea and South Korea | |
| Empire of Japan | Tokyo | Japan, Taiwan, Singapore, Da Nang, Sakhalin, Midway, Hawai'i, Komandorski Islands, Kuril Islands, Oceanian Territories, Papua New Guinea, Korea*, California* and North American Territories | |
| Hong Kong | Victoria | Hong Kong | |
| Republic of Lan Xang | Phnom Pehn | Laos and Cambodia | |
| Greater Siamese Empire | Bangkok | Thailand and Myanmar | |
| Kayin Republic* | Pa-an | Burmese states of Kayin, Kayah and Mon | |
| Republic of Indonesia | Jakarta | Indonesia excluding Kalimantan and Papua | |
| Republic of the Philippines | Manila | Northern Philippines above the Vizayas and Cebu | |
| Republican Sultanate of Mindanao | Tagum | Southern Philippines starting from the Vizayas excluding Cebu | |
Australiasia and Oceania
| Name | Capital(s) | OTL Nations (or subdivisions) | Flag |
| --- | --- | --- | --- |
| Republic of Australia-New Zealand | Canberra | Australia, New Zealand and Papua | |