List of Nations (And Broke into Pieces, My Russia)
Talk

0
Share
Ad blocker interference detected!
Wikia is a free-to-use site that makes money from advertising. We have a modified experience for viewers using ad blockers

Wikia is not accessible if you've made further modifications. Remove the custom ad blocker rule(s) and the page will load as expected.
Although this world is geographically not so different it have some differences a part of the Russian, Persian, and Turkish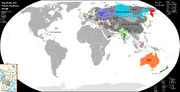 Balkanization. Some examples are the collapse of UK after the Cold War, Germany divided in various countries after the allied occupation in WWII, the union of the Caribbean Commonwealths, Belize, and the British overseas territories in the Caribbean, the independence of the territories of Australia and New Zealand, the collapse of Malaysia into 11 countries and many others!
Europe
Americas
| Nation | Capital | Language(s) | Organisation | Notes |
| --- | --- | --- | --- | --- |
| Union of West Indies Republics (UWIR) | Chaguaramas | English | UN | Union of former Commonwealth members in the Caribbean, the British oversea territories in the Americas, and Belize. made by 16 autonomous republics. |
Oceania
| Nation | Capital | Language(s) | Organisation | Notes |
| --- | --- | --- | --- | --- |
| Republic of Australia | Camberra | English, Aboriginal Languages | UN | Created after the Commonwealth of Nations was disbanded in 1991 |
| Republic of New Zealand | Auckland | English | UN | Created after the Commonwealth of Nations was disbanded in 1991 |
Asia
| Nation | Capital | Language(s) | Organisation | Notes |
| --- | --- | --- | --- | --- |
| Chinese Republic | Taipei | Chinese, Taiwanese aboriginal | UN | De Facto Governement in Taiwan and some islands. Supported by Hapogobians due to having ethnic autonomous regions |
| Sultanate of Johor | Pasir Pelangi | Malay | UN, Organization of Malay states | |
| Sultanate of Kedah | Alor Seta | Kedah Malay | UN, Organization of Malay States | |
| Sultanate of Kelantan | Kota Bharu | Kelanatan Malay | UN, Organization of Malay States | |
| Khalistan | Amritsar | Punjabi | UN | Strong ally of Pakistan |
| Republic of Malacca | Malacca Town | Malay | UN, Organization of Malay States | |
| National Republic of China | Beijing | Standart Mandarin, and 292 other minorities | UN | Fascist State in China created by Mao Zendong in 1949. Possible future Superpower |
| Republic of Negeri Sembilan | Seri Menanti | Negeri Sembilan Malay | UN, Organization of Malay State | |
| Aden | Aden | Arab | UN, League of Arab States | Former Commonwealth |
Africa