This is an incomplete list of National Historic Landmarks in Kentucky.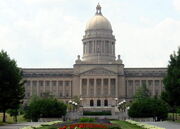 Kentucky
Burks' Distillery - The oldest active distillery in Kentucky
Ashland: The Henry Clay Home - located in Lexington, the home of Henry Clay
Fort Boonesborough State Park - One of the original settlements in Kentucky
Green River Shell Middens Archeological District - Late Archaic Period site
Indian Knoll - Archaic shell heap
Keeneland Race Course - Race track
Jacobs Hall, Kentucky School for the Deaf - Jacobs Hall is oldest remaining building at the Kentucky School for the Deaf.
Labrot & Graham's Old Oscar Pepper Distillery - Makers of Woodford Reserve
Liberty Hall - Home of John Brown, who helped Kentucky attain statehood
Lincoln Hall, Berea College - Building at Berea College, first biracial college in the United States
Dr. Ephraim McDowell House - Site of first successful ovariotomy, done by Ephraim McDowell
Mill Springs Battlefield - Where a Union victory ended Confederate defensive line in Kentucky in 1862
Old Morrison, Transylvania College - One of the first buildings of Transylvania University, the first college built west of the Appalachian Mountains
Old State House - Frankfort
Perryville Battlefield - Site of largest battle in Kentucky during the American Civil War
Shakertown at Pleasant Hill Historic District - Home of a Shaker community
Whitney M. Young Birthplace and Boyhood Home - Birthplace and childhood home of Whitney Young
Zion Meetinghouse and School
Janice Holt and Henry Giles Log House
Indiana
Tennessee
Other
Ad blocker interference detected!
Wikia is a free-to-use site that makes money from advertising. We have a modified experience for viewers using ad blockers

Wikia is not accessible if you've made further modifications. Remove the custom ad blocker rule(s) and the page will load as expected.