Ad blocker interference detected!
Wikia is a free-to-use site that makes money from advertising. We have a modified experience for viewers using ad blockers

Wikia is not accessible if you've made further modifications. Remove the custom ad blocker rule(s) and the page will load as expected.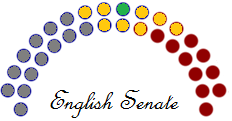 This is a list of
politicians
currently holding seats on the
Senate
of the
Republic of England
as of 1 January 2012.
Affiliation
Members
Note
Freedom Party  
13
Social Democrats  
10
The Liberals  
8
The Greens
1
Total
32
Leadership
Office
Party
Officer
State
Since
President of the Senate
 The Liberals
Fiona Hall
Northumberland Tyne
2009
Speaker of the Senate
Freedom Party
Kenneth Clarke
Nottingham Derby
2007
Governor (Freedom) leadership
| Office | Officer | State | Since |
| --- | --- | --- | --- |
| Chairman of the Governor Senate | David Cameron | Buckingham Oxford | 2010 |
| Governor Whip | Patrick McLoughlin | Lincolnshire | 2010 |
| Vice-Chairman of the Governor Senate | Angus Poole | Cheshire | 2012 |
| Governor Policy Committee Chairman | William Hague | North Yorkshire | 2010 |
| Governor Conference Secretary | Ken Hampton | Isle of Wight | 2012 |
| Governor Campaign Committee Chairman | Nikki Sinclaire | West Midlands | 2010 |
Opposition (SDP, Liberals & Greens) leadership
| Office | Party | Officer | State | Since |
| --- | --- | --- | --- | --- |
| Opposition Leader | Social Democrats | Duncan Fellows | Cumbria | 2010 |
| Opposition Chief Whip | Liberals | Lorraine Rice | Devon | 2002 |
| Opposition Conference Chairman | Social Democrats | Jack Straw | Lancashire | 2010 |
| Opposition Policy Committee Chairman | Social Democrats | Vera Baird | East Riding | 2012 |
| Opposition Conference Secretary | Greens | Adrian Ramsay | East Anglia | 2012 |
| Opposition Campaign Committee Chairman | Liberals | Chris Huhne | Hampshire | 2008 |
Members
State
Name
Party
Since
Age
Religion
Northumberland Tyne
Fiona Hall
The Liberals
2004
57
Unknown
East Riding
Vera Baird
Social Democrats
2010
62
Unknown
Merseyside
David Miliband
Social Democrats
2001
47
Atheist
Durham Tees
Stuart Sultan
Social Democrats
1994
53
Roman Catholic
North Yorkshire
William Hague
Freedom Party
1998
51
Unknown
South Yorkshire
Ed Miliband
Social Democrats
2005
43
Atheist
West Yorkshire
Ed Balls
Social Democrats
2005
45
Unknown
Nottingham Derby
Kenneth Clarke
Freedom Party
1977
72
Unknown
Northampton Rutland
Edward Garnier
Freedom Party
1997
60
Roman Catholic
Lincolnshire
Patrick McLoughlin
Freedom Party
2000
55
Unknown
Warwick Hereford
Peter Luff
Freedom Party
1997
57
Unknown
Staffordshire
Nick Clegg
The Liberals
2007
45
Atheist
West Midlands
Nikki Sinclaire
Freedom Party
2009
44
Unknown
East Anglia
Adrian Ramsay
The Greens
2012
30
Unknown
Bedford and Herford
David Laws
The Liberals
2001
47
Unknown
Essex
Geoffrey Van Orden
Freedom Party
1999
67
Unknown
Inner London
Justine Greening
Freedom Party
2012
43
Anglican
Outer London
Simon Hughes
The Liberals
2002
61
Anglican
Buckingham Oxford
David Cameron
Freedom Party
2001
46
Anglican
Surrey & Sussex
Niranjan Deva
Freedom Party
1999
64
Roman Catholic
Hampshire
Chris Huhne
The Liberals
2005
57
Unknown
Isle of Wight
Mahdi Boulos
Freedom Party
2010
46
Sunni Islam
Kent
Ultan Ó Rinn
Freedom Party
2007
53
Atheist
Wiltshire Stroud
Vince Cable
The Liberals
2005
69
Roman Catholic
Somerset & Dorset
David Heath
The Liberals
1997
58
Unknown

Devon

Lorraine Rice
The Liberals
2010
42
Atheist
Cumbria
Duncan Fellows
Social Democrats
1992
62
Unknown
Cheshire
Angus Poole
Freedom Party
2001
49
Unknown
Greater Manchester
Louise Sienkiewicz
Social Democrats
1997
46
Unknown
Lancashire
Jack Straw
Social Democrats
1979
66
Anglican
Gibraltar
Fabian Picardo
Social Democrats
2011
40
Unknown
Overseas Territories
Ewart Brown
Social Democrats
2006
66
Unknown
Past senates