List of Kings of Kingdom of France (The Kalmar Union)
Talk

0
Share
Ad blocker interference detected!
Wikia is a free-to-use site that makes money from advertising. We have a modified experience for viewers using ad blockers

Wikia is not accessible if you've made further modifications. Remove the custom ad blocker rule(s) and the page will load as expected.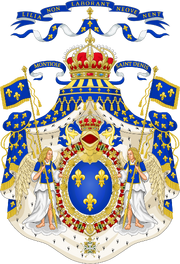 The Kings of
France
(as opposed to the Kings of
Francia
) are generally dated from the rule of Hugh I Capet.
From this point onwards, despite occasional succession crises the crown has been kept within the various branches of the Capet dynasty, though Salian law was abandoned in the mid-12th century.
The title of King of Francia is still occasionally used. More often the title Duke of Orleans is used, mainly to avoid confrontation with the other French realms that do not consider the Kings of France their overlord.
House of Capet
Monarch
Portrait
Dates of Rule
Hugh I Capet
(987-996)
Robert II
(996-1031)
Henry I
(1031-1060)
Philip I
(1060-1108)
Louis VI
(1108-1137)
Philip II
(1137-1145)
Robert III
(1145-1147)
Adele
(1147-1154)
Simon
(1154-1156)
Adele


(Restored)

(1156)
Robert IV
(1156-1170)
Louis VII
(1170-1181)
Charles IV
(1181-1201)
John I
(1201-1210)
Charles V
(1210-1225)
Louis VIII
(1225-1229)
Philip III
(1229-1258)
Catherine I
(1258-1264)
House of Capet (Berry)

| Monarch | Portrait | Dates of Rule |
| --- | --- | --- |
| John III | | (1414-1453) |
| Louis XII | | (1453-1482) |
House of Capet (Orleanais)

| Monarch | Portrait | Dates of Rule |
| --- | --- | --- |
| Henry II | | (1482-1519) |
| John IV | | (1519-1548) |
| Louis XIII | | (1548-1591) |
| Henry III | | (1591-1619) |
| Charles VI | | (1619-1647) |
| Charles VII | | (1647-1690) |
| Charles VIII | | (1690-1702) |
| Catherine II | | (1702-1735) |
House of Capet-Darmstadt

| Monarch | Portrait | Dates of Rule |
| --- | --- | --- |
| Charles IX | | (1735-1759) |
| Louis XIV | | (1759-1802) |
| Louis XV | | (1802-1834) |
| Charles X | | (1834-1866) |
| Charles XI | | (1866-1887) |
| John V | | (1887-1925) |
| Charles XII | | (1925-1973) |
| Charles XIII | | (1973-) |
The Kalmar Union TL Articles

Nations
Timelines
Military
Miscellaneous
The Kalmar Union