List of Kings of Kingdom of Finland (The Kalmar Union)
Talk

0
Share
Ad blocker interference detected!
Wikia is a free-to-use site that makes money from advertising. We have a modified experience for viewers using ad blockers

Wikia is not accessible if you've made further modifications. Remove the custom ad blocker rule(s) and the page will load as expected.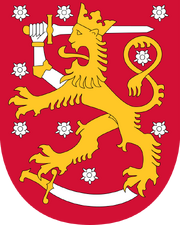 The monarchs of
Finland
are usually dated from the rule of
Eric I
, who despite claiming the
Svealandic
throne was confined solely to Finland. Rulers of Svealand and
Denmark
who ran Finland as part of their territory are generally omitted from the list.
House of Eric

| Monarch | Portrait | Dates of Rule |
| --- | --- | --- |
| Eric I (Eric VII of Svealand) | | (1262-1282) (Confined solely to Finland (1267-1282)) |
| Eric II | | (1282-1307) |
Finland united with Svealand (1307-1801)
House of de la Gardie

| Monarch | Portrait | Dates of Rule |
| --- | --- | --- |
| Karl I | | (1801-1823) |
| Karl II | | (1823-1840) |
| Alexander | | (1840-1845) |
| Maria | | (1845-1892) |
House of de la Gardie-Wetterstedt

| Monarch | Portrait | Dates of Rule |
| --- | --- | --- |
| Eric III | | (1892-1901) |
| Eric IV | | (1901-1951) |
| Sofi | | (1951-1972) |
House of de la Gardie-Wetterstedt-Eiriksson

| Monarch | Portrait | Dates of Rule |
| --- | --- | --- |
| Karl III | | (1972-) |
Rulers of Finland

13th Century

14th-18th Centuries

Reabsorption into Svealandic Kingdom

19th Century

20th Century
The Kalmar Union TL Articles

Nations
Timelines
Military
Miscellaneous
The Kalmar Union