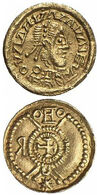 This is a list of each person that ruled the Kingdom of Galicia since its creation in 409 by Hermeric.
Suebi Kings
Name
Birth - Death
Reign
Notes
Hermeric
? - August 427
409 - August 427

Brought the Suebi tribe to Hispania.
Founded the Kingdom of Galicia.
Killed during a battle against Heremigarius.

Heremigarius
? - December 438
August 427 - December 438

Usurped the throne from Hermeric.

Vidraldus
13 May 415 - ?
December 438 -
Ad blocker interference detected!
Wikia is a free-to-use site that makes money from advertising. We have a modified experience for viewers using ad blockers

Wikia is not accessible if you've made further modifications. Remove the custom ad blocker rule(s) and the page will load as expected.