A list of Finnish monarchs in the No Belgium timeline.
List
History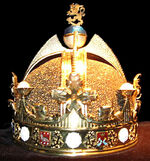 With the independence of the nation from Russia came the task of establishing a secure government. Many in Finland, as well as Germany, were supportive of having the nation under the rule of a constitutional hereditary monarchy. In 1918, Prince Frederick Charles of Hesse-Kassel was elected king of the nation. Despite his original hesitation, he and his family moved to Helsinki as the first royal family in Finland.
Currently, Queen Mafalda is the ruling member of the kingdom. She has had four children to two husbands. Her eldest daughter and heir apparent, Princess Tatiana, was born in 1990.